Transplant surgery for dry eye syndrome a world first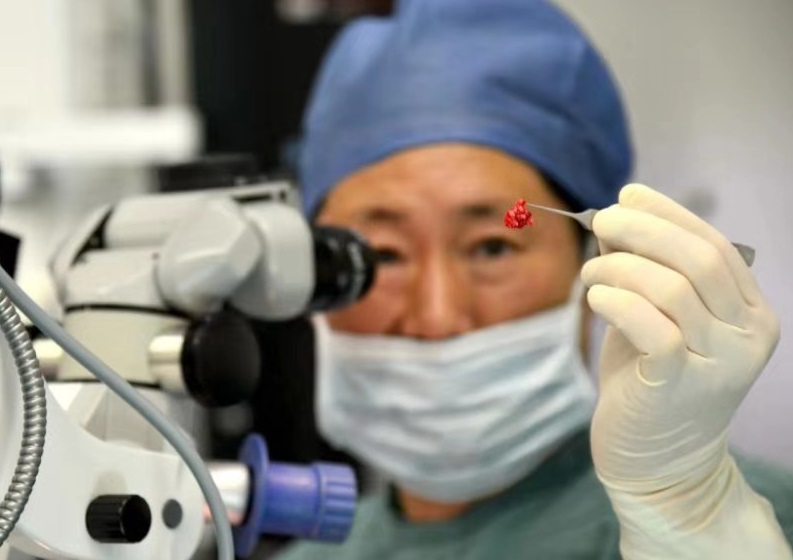 A mother who suffered through years of dry eye syndrome regained her eyesight after undergoing a labial gland transplantation, using her son's gland, at a hospital in Wuhan, Central China's Hubei province, marking the world's first successful case of such a surgery to treat this disease.
The mother, surnamed Peng, had rheumatoid arthritis and dry eye disease for 20 years, and returned to Wuhan Union Hospital for a review on Tuesday, which showed positive results a half-year after the surgery.
Peng had suffered great inconvenience and pain due to dry eye syndrome, which had worsened her eyesight to point of nearly becoming blind.
As of now, about 300 million people in China have dry eye syndrome, with a painful experience similar to Peng, the hospital said.
Traditional treatments usually involve transplanting glands from other parts of the patient's body, but if their glands, including labial ones, lose the ability to secrete, the patient will be helpless.
Because of rheumatic immune disease, Peng's labial glands, parotid glands, submandibular glands and other glands had lost their secreting functions, so transplanting them could not alleviate her condition.
The surgery, where she received a glandular transplantation from her son, is said to be the first case in the world where labial glands were successfully transplanted from one person to another, according to the hospital.
Zhang Mingchang, who performed the surgery for her, said that after the successful operation, he will provide more treatments for more patients and rid them of dry eye disease as soon as possible.
Jiang Peijin in Beijing contributed to this story.