Protests cause traffic snarls in HK, flights canceled, subway disrupted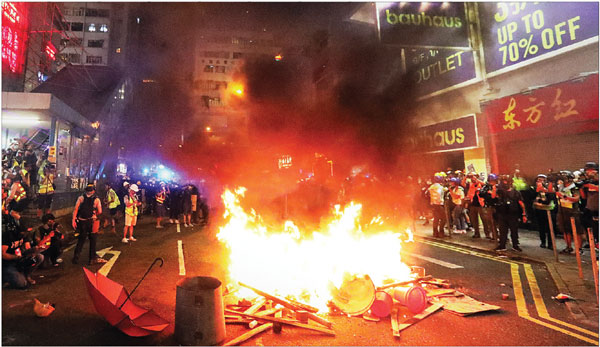 Hong Kong was plunged into fresh chaos on Monday as a general strike followed another weekend of violent protests, paralyzing transportation networks and leading to numerous flight cancellations.
Commuters struggled to get to work on time on Monday morning, with many rail and bus services suspended. Some protesters blocked trains from leaving stations while others wedged themselves between train doors.
Nancy Huang, 23, a recruitment consultant and Tai Wai resident, said she had planned to reach her Wan Chai office before 8:30 am but was stuck at Tai Wai station long past that time. "It's too inconvenient, and I feel so tired. The station was full of people, and I was trapped there for nearly 5 hours," she said.
Another Tai Wai resident, Susan Tso, 26, hadn't managed to reach her workplace at Sai Ying Pun even by 11:30 am. She had planned to clock in by 9:30 am but waited at the Tai Wai station for about one hour before deciding to look for a bus. "There are still around a hundred people waiting ahead of me," Tso said.
"These protesters have no respect for other people, as many in Hong Kong don't want to strike. How can these protesters force others to, and who gives them the right?" she added.
Long lines of traffic could be seen across Hong Kong Island leading into the heart of the business district, and hundreds of people were stranded at the airport. Roads into the city were paralyzed.
Ng, a 50-year-old office worker living near Central who didn't want to disclose his full name, endured a long commute to his Tsim Sha Tsui office as part of the subway's Tsuen Wan line had been blocked by protesters in the morning. He said the citywide strike had completely disrupted his work schedule.
A businessman surnamed Chan who took the subway from Tsim Sha Tsui to Central said the strike caused trouble for workers as most of the city's public transport system had come to a halt.
The citywide disruption has triggered condemnation from community groups. The city's biggest political party in the legislature joined the condemnation. Gary Chan Hak-kan, vice-chairman of the Democratic Alliance for the Betterment and Progress of Hong Kong, said the strike has blocked the city's main roads and disrupted subway trains, depriving citizens their rights to commute.
Chan added that his party understands that the protesters have the right to go on strike, but the people's right to travel to work on the city's transportation system should be respected.