Lam: HK on verge of dangerous situation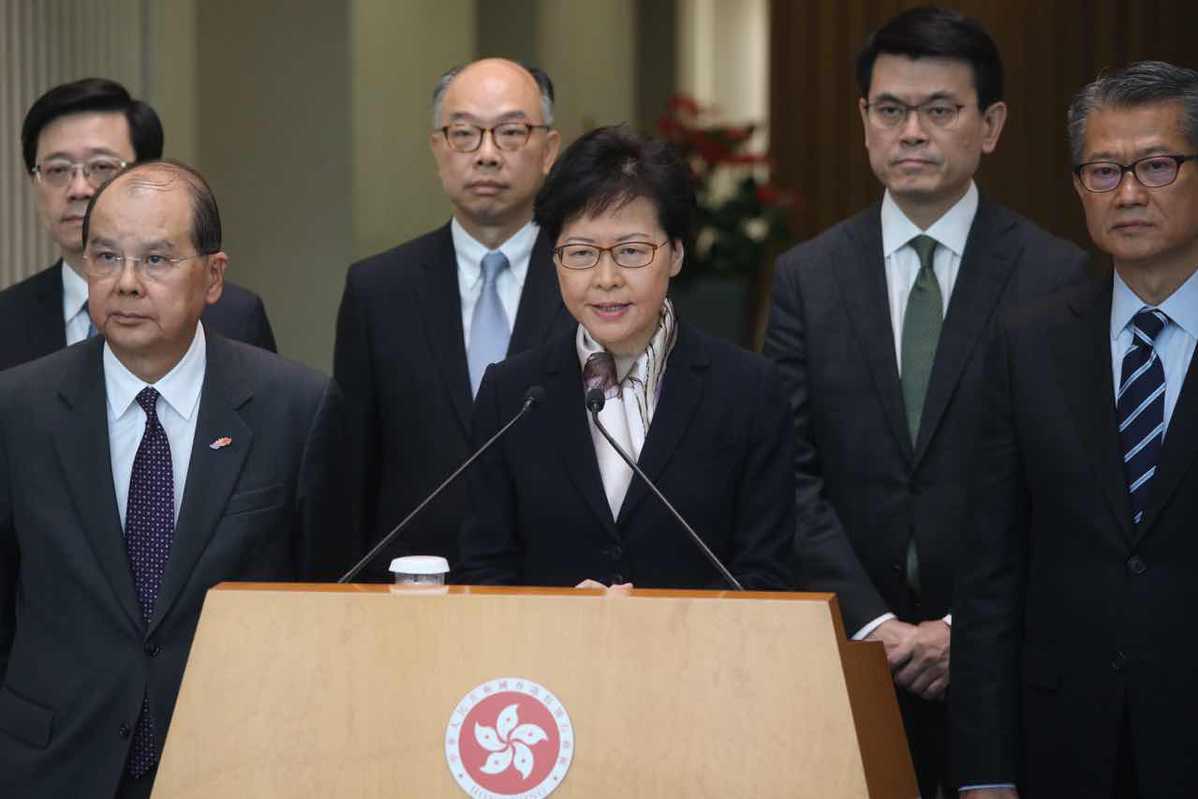 Hong Kong's Chief Executive Carrie Lam Cheng Yuet-ngor said on Monday that protesters' sustained acts of disruption in the name of certain demands or non-cooperation movement is pushing "our city, the city we all love and many helped to build, to the verge of a dangerous situation".
Lam made the remarks after the city was almost paralyzed by protesters deliberately blocking train doors at multiple stations. At least 7 MTR lines were affected, with 35 flights expected to be cancelled before noon.
"The government will be resolute in maintaining law and order in Hong Kong and restoring confidence," Lam pledged.
Lam said the protests have gone beyond the fugitive offenders' bill and are aimed at destabilizing Hong Kong at the cost of 7 million residents' stable lives and future.
It will take time for Hong Kong to restore what has been done to its economy, livelihood and the entire society, she added.
"We all love Hong Kong and have made different contributions to its stability and prosperity over the years. This is the time for us to rally together to set aside differences and bring back order, and say no to chaos and violence," she said.
Lam said the protesters' actions are a blatant provocation to national sovereignty and challenge "one country, two systems" principle. They are trying to destroy the lives of 7 million people, one we all completely cherish, Lam added.
Also meeting the press, Financial Secretary Paul Chan Mo-po, warned Hong Kong's economy is in great danger, under China-US trade war and global economy slowdown and many international variables. Locally, many shops, restaurants and retail have been affected. The second quarter economy reported negative growth, and if the situation remains same in the third quarter, Hong Kong will experience recession, Chan cautioned.
Chief Secretary Cheung Kin-chung called all the civil servants to unite and stick to their positions, in response to the protesters' call to have a city-wide strike. Cheung said emergency services have not been affected so far.

Since mid-June, the city has seen escalating violence and vandalism, causing injuries to police officers and serious disruptions to many residents and business almost every week. Despite strong criticisms of the protesters, the demonstrators plan to go ahead with more protests in the coming weeks. Public meetings were planned in seven locations on Monday afternoon.
Lam also appealed to the public and the media for having a bit more understanding of the "difficulties faced by the police during this very difficult period".
The families of police officers have been threatened, she noted.
Since June 9, more than 1,200 police officers and their families' personal data were leaked after protesters made the police their targets to vent their anger. Hate speeches and messages against police officers, some cursing their children, have circulated online.

Starting from Monday, the government will have cross-departmental press conference when they deem necessary while the police will meet with the press on a daily basis. The first cross-departmental press conference is expected to be held on Monday afternoon.