China's women volleyball secures Olympic slot by beating Turkey 3-0
Share - WeChat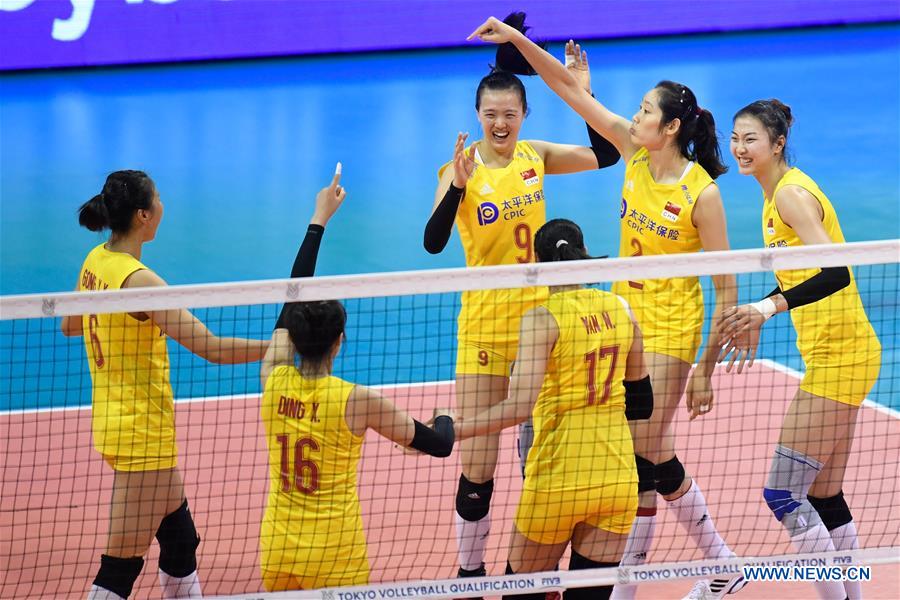 BEILUN, China - China claimed the ticket to the 2020 Olympic Games following their 3-0 triumph over Turkey in the Tokyo Volleyball Qualification women's Pool B tournament here on Sunday.
Zhu Ting had 15 kills in 27 attempts to score a match-high 20 points while Zhang Changning contributed 16 points in China's 25-18, 25-12, 25-18 victory in only one hour and 15 minutes.
"We did a great job today, especially our defense," said China's head coach Lang Ping. "Winning the Olympic ticket is our first step. As we will face stronger teams in Tokyo, we must be stronger ourselves."
Ebrar Karakurt had 15 points for Turkey, but she couldn't get much help from her teammates, as no other Turkish players scored double-digit points. Turkey committed 19 errors while China had only eight.
"I'm sorry to the spectators as we didn't play a good game today," said Giovanni Guidetti, head coach of Turkey. "China is too far from Turkey. Our players faced big pressure today. China is an amazing team, it is difficult for everybody to play against China."
Prior to the match, both sides had two straight wins in the four-team round-robin pool, with the winner taking the ticket for the Tokyo Games.
It was China that took the initiative in the decisive match and led 14-9 on a spike by star spiker Zhu Ting in the opening set. After Turkey managed to claw it back at 14-16, China again extended the lead to 22-16 starting with a spike from setter Ding Xia, and took the set 25-18 as Cansu Ozbay's spike flew outside.
The following set was much easier for the Chinese team, as they led as many as 13 points and cruised to a comfortable win 25-12.
Turkey came back strongly in the third set and entered the first technical timeout at 7-8, only one point behind. China then enlarged the margin to 18-13 and took the set 25-18 after Zhu Ting served for an ace.
"We won over both the Czech Republic and Germany in our first two matches, but I was not satisfied with players' performance. Today, they did much better, but we still have a long way to go," said coach Lang.
Earlier on Sunday, Germany stormed to a convincing three-set win over the Czech Republic, taking the match 25-18, 25-22 and 25-16.