Goldfish set to make a splash at Forbidden City century later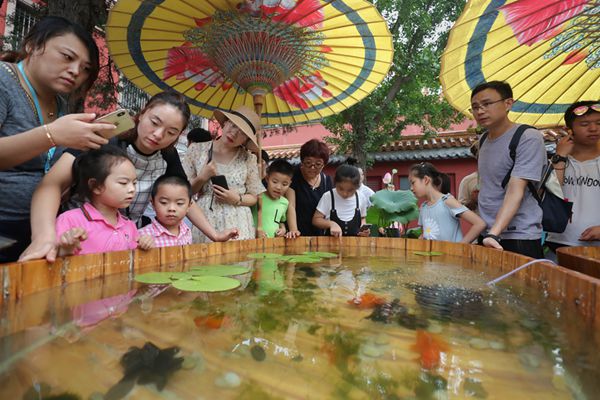 During the Qing Dynasty (1644-1911), several royal concubines resided at the Palace of Prolonging Happiness, or Yanxi Gong, in the eastern wing of the inner court of Beijing's Forbidden City-or Palace Museum, as it's known today.
Seemingly cursed, the palace was swallowed up by fire several times over the course of history. In 1909, Empress Dowager Longyu decided to construct a Western-style aquarium or "hall of water "to finally make a break with destiny. But two years later, before the building-the Lingzhao Veranda-could be completed, the Qing reign came to an end, with monarchy itself ending in China.
Although the former royals continued to live in the Forbidden City after the republican revolution until 1924, construction of the Lingzhao Veranda never resumed.
Perhaps it didn't matter. A new way was devised to realize the former royals' dream of viewing fish there. They used large barrels to raise goldfish in, which they called the "wooden sea".
A century later, and this "wooden sea" has made a welcome return to the Yanxi Gong.
For the monthlong exhibition Leisurely Bliss: Goldfish-Themed Artifacts from the Palace Museum Collection, which opened on Tuesday, about 200 goldfish in 42 species from around China will be put on display.