C919 on track for commercial debut in 2021
Share - WeChat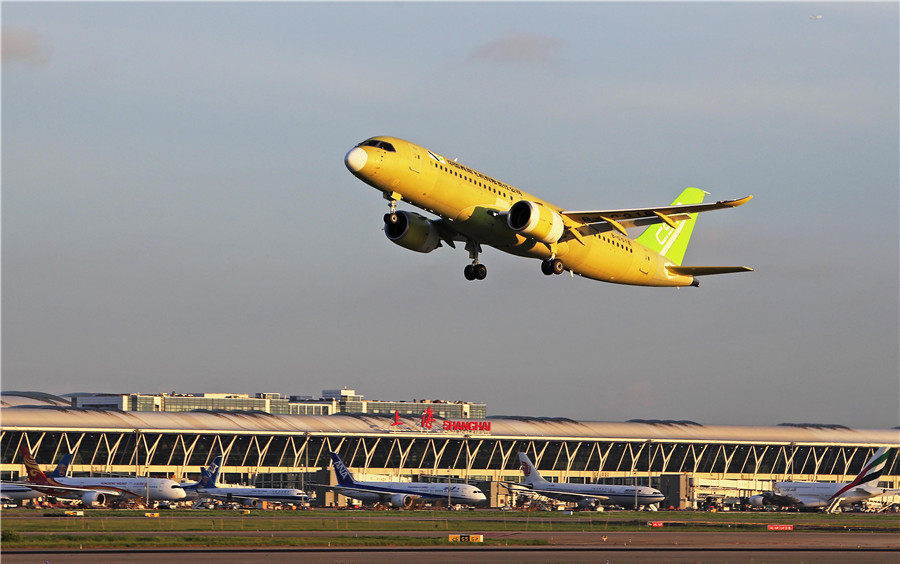 The fourth test aircraft of the C919, China's first home-built narrow-body passenger jet, took part in a test flight in Shanghai on Thursday, and another two new test jets, the 105 and 106, will complete their first test flights later this year, before entering the market in 2021.
The progress indicates that the C919 will speed up its work in getting airworthiness certification, an industry expert said.
Four C919 jets - the 101, 102, 103 and 104 - have completed testing, and now they are undergoing more intense test flights, static tests, and other ground tests at several testing bases, including Yanliang district in Xi'an, Shaanxi province, Dongying in Shandong province and Nanchang in Jiangxi province, said Commercial Aircraft Corp of China, its manufacturer.
The C919's latest test flight comes at a time when its competitor Boeing's B737 Max jets remain grounded worldwide following two fatal crashes - one on Oct 29 last year in Indonesia and the other on March 10 in Ethiopia - that killed a total of 346 people.
In March, China was the first country to ground the aircraft from commercial flights. The Civil Aviation Administration of China has also suspended the airworthiness certificate application of the model for Chinese airlines.
Last week, Boeing Co reported a nearly $3 billion loss for the second quarter, its worst loss ever for the US aircraft manufacturer. It delivered 104 fewer airplanes to customers compared to the same quarter last year.
Meanwhile, Boeing's archrival Airbus SE on Wednesday posted stronger-than-expected second-quarter earnings. Its net profit reached $2.2 billion, its earnings report said.
"As there is no timetable for the B737 Max to resume flying, passengers have shown a falling confidence in the model, and the global market would more welcome its competitors. The Max issue also reminds China that it is quite important to do one's own work well and develop a safe aircraft," said Lin Zhijie, an aviation industry analyst.
"Now there are still some gaps between the C919 and mainstream single-aisle aircraft of Boeing and Airbus in economic efficiency and other aspects. After the C919 enters commercial use, it will continue to upgrade and improve, and in the long term, it is likely to challenge major Western manufacturers," he said.
The C919 104 prototype test aircraft took off at 5:32 am on Thursday morning from Shanghai Pudong International Airport, and flew for one hour and 25 minutes, before successfully returning to the airport. The aircraft completed several tests and initial control checks on aircraft systems, said COMAC.
The 104 prototype test aircraft mainly undertakes tasks such as the tests of its avionics system, the performance of takeoff and landing, the automatic flight system, and natural icing, its manufacturer said.