Returns on forex reserves expected to remain stable
Share - WeChat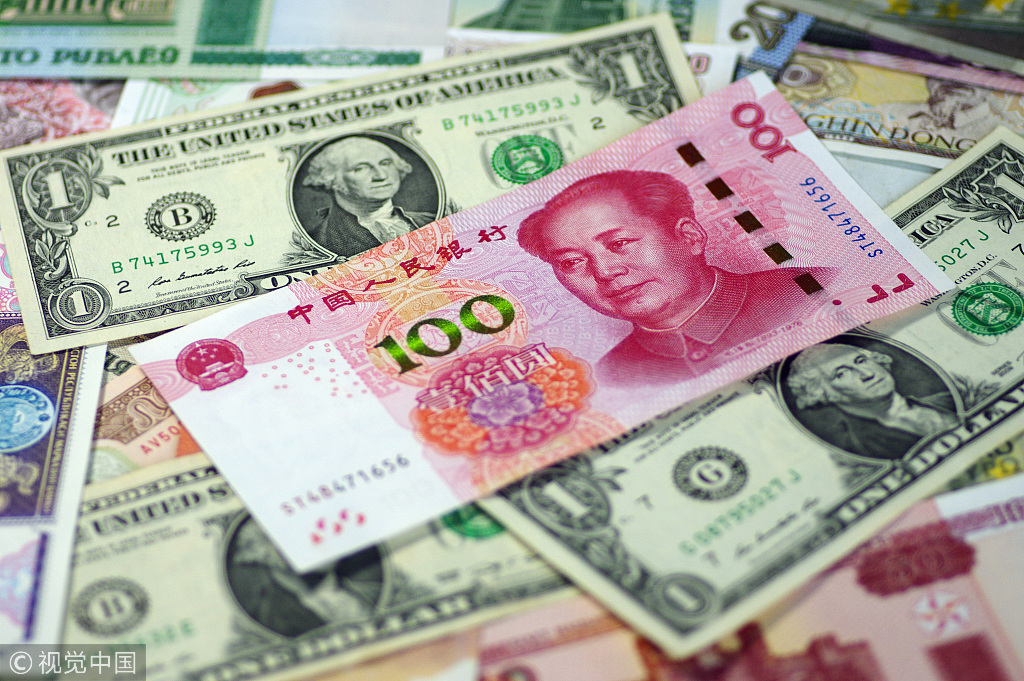 The prospective returns on China's vast amount of foreign exchange reserves are likely to remain stable, and the regulator is optimizing investment strategies this year to increase asset values and reduce the adverse impacts of expected monetary easing in major economies, according to economists.
They also said that it could be a trend for China to continue to increase its gold holdings for the purpose of reserve portfolio adjustment aimed at value preservation and reduction of foreign exchange risks.
The State Administration of Foreign Exchange, China's forex regulator, disclosed for the first time on Sunday that the country had achieved a 10-year average return rate of 3.68 percent on its foreign exchange reserve investments from 2005 to 2014, according to the administration's 2018 annual report published on its website.
Wang Chunying, a spokeswoman for the administration, said the investment return rate was at a "relatively good level" compared with those of global peers.
The expected return rate of China's $3.12 trillion foreign exchange reserves, the world's largest, is likely to be maintained at around 3 percent, said Xie Yaxuan, chief analyst at China Merchants Securities. Further monetary easing in major economies may depress the yields, especially for bonds, but the downside should be limited, Xie said.
Most global investors expect the United States Federal Reserve to announce a rate cut this week-a move expected to weaken the value of US dollar-denominated assets.
There is a global trend that national reserve asset managers tend to focus on long-term and relatively stable investments such as infrastructure construction in order to hedge against potential weakness in bond and equity markets, he added.
Zhao Qingming, chief economist at the China Financial Futures Exchange's derivative institute, said it is also a trend for global monetary authorities, including China's central bank, to increase gold in their reserve portfolios to prepare for any shocks from financial risks.
The administration said China's gold reserves increased to $87.27 billion by the end of June, up from $79.32 billion in January. China had the world's sixth-largest gold reserves by the end of 2018 with a total of 1,852 metric tons.
"In 2019, the major task of foreign exchange management is to enhance mid-and long-term asset allocation and optimize and adjust investment strategies," the administration's report said.
The administration also for the first time disclosed the currency composition of the country's foreign exchange reserves in the annual report. The reserves denominated by the US dollar accounted for 58 percent of the total by the end of 2014, down from 79 percent in 1995.
Among global foreign exchange reserves, US dollar-denominated assets made up 65 percent of the total by 2014, up from 59 percent in 1995, according to the report.
"China's forex reserve currency structure is diversified, even more diversified than the world's average level," Wang said. "It is in line with requirements of China's economic and trade development, as well as the demand of international payments."
For China, most of the foreign exchange reserves, nearly 60 to 70 percent, are held as sovereign debt from advanced economies as well as financial and corporate bonds with high credit ratings, experts said.
"Forex reserves will continually play an important role in cushioning depreciation pressure on the renminbi and maintain a balance of international payments," said Zhao.
But it is quite unlikely for the People's Bank of China, the central bank, to influence the renminbi exchange rate through selling of foreign exchange reserves, even if the currency may be under depreciation pressure amid global monetary easing, he added.
As of the end of June, China's foreign exchange reserves stood at $3.12 trillion, up from $3.10 trillion by May, according to central bank data.