Sun suspected of illegal funding; lunch with Buffett canceled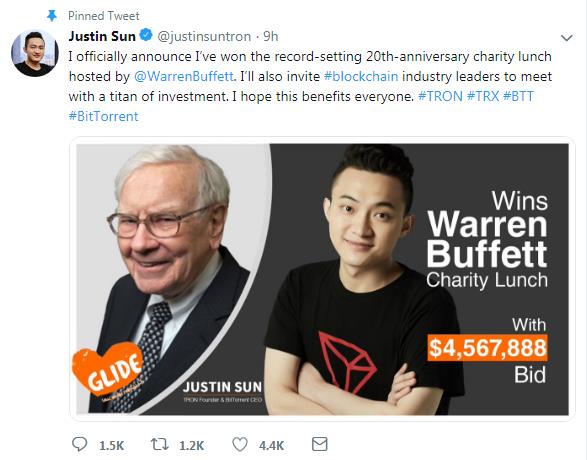 Sun Yuchen, the 28-year-old Chinese businessman who announced his cancellation of a lunch meeting with US billionaire Warren Buffett, was suspected of illegal funding, money laundering, brokering prostitution deals and gambling activities, a Chinese media outlet reported on Tuesday.
His company TRON, an internet blockchain technology company, raised funds worth 400 million yuan through an Initial Coin Offering — an illegal financing method that has been banned by Chinese financial regulators — according to a Chinese-language report from the 21st Century Business Herald.
TRON also provides gambling applications that domestic users can directly access, the report claimed, which is illegal as well.
A social network APP named "peiwo", founded by Sun, is suspected per the report of providing channels for soliciting sex — also illegal.
"Sun raised a lot of funds through methods such as ICO, which is illegal funding — that can explain why he is so rich," the report alleged, quoting anonymous sources.
Sun won the auction for this year's Buffett lunch with a $4,567,888 bid, a record high since the lunch was launched 20 years ago. He announced cancellation of the lunch, which was scheduled for Thursday, via Chinese microblogging website Sina Weibo early Tuesday morning, citing a sudden attack of kidney stones.
The Chinese central bank and other government departments issued a notice on September 4, 2017 to stop financing activities via ICOs immediately. Organizations and individuals that have raised money via ICOs should return the funds to investors, the notice read.
Li Aijun, a law professor at the China University of Political Science and Law, said in the report an ICO constitutes illegal fundraising or contract swindling and poses the risk of causing property losses for investors.