China-ASEAN trade continues to boom amid global growth slowdown, uncertainties
Share - WeChat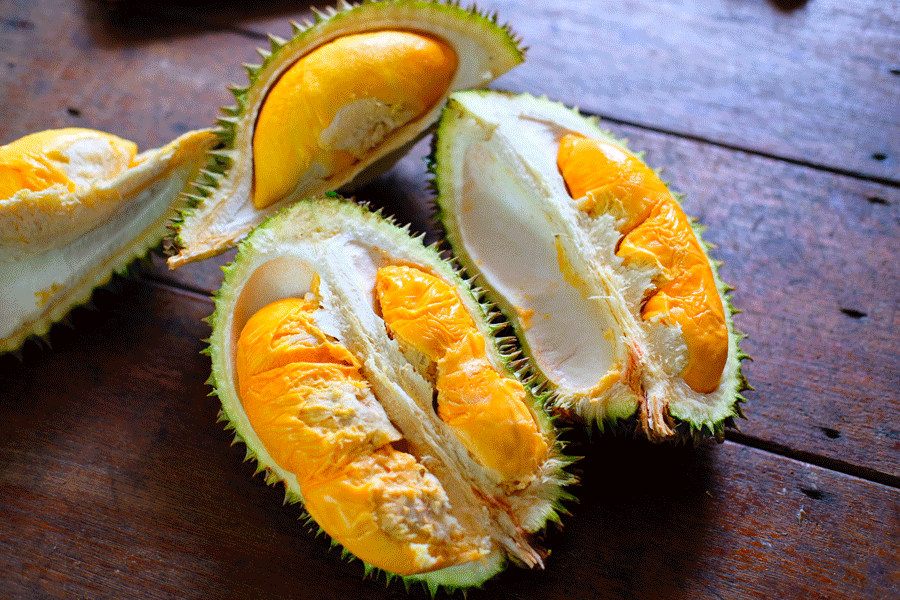 HONG KONG - The planting of durians has been picking up steam across Malaysia in recent years owing to an increasing demand from China, the world's largest market for this thorny and pungent "king of fruits."
In June, Chinese authorities cleared whole durian fruits from Malaysia for import, as before that only pulp, paste and processed product could be sent to China. The new move further boosted the confidence of durian plantation in Malaysia, which has seen the total durian production rise to 341,000 metric tons in 2018 from 211,000 tons in 2017.
Durian exports to China are expected to contribute nearly 500 million ringgit ($120 million) to the nation's total export value annually, said Malaysian Minister of Agriculture and Agro-based Industry Salahuddin Ayub.
Besides durian, the Malaysian government is also expecting to boost exports to China other goods, including palm oil, petrochemical products, manufactured goods and agricultural products, according to the country's Deputy Minister for International Trade and Industry Ong Kian Ming.
ASEAN overtakes US as China's 2nd largest trading partner
The 10-member Association of Southeast Asian Nations (ASEAN) became China's second-largest trading partner in the first half of 2019, overtaking the United States for the first time since 1997.
China's customs data showed that China's trade with ASEAN rose 10.5 percent to 1.98 trillion yuan ($288 billion) in the first half of this year, as China's trade with the US dropped 9 percent to 1.75 trillion yuan ($254 billion).
Last year, the total volume of trade between China and ASEAN countries hit a record high of $587.87 billion, up 14.1 percent year-on-year.
By the end of 2018, China has been ASEAN's largest trading partner for nine consecutive years.
Besides Malaysia, China has also become a huge market of various goods from other ASEAN member countries.
In 2018, China ended Japan's 30-year streak to become the biggest foreign market of Philippine bananas, buying a total of 1.165 million tons of bananas from the Philippines, a substantial increase of 56 percent compared to 2017, according to the Philippine Statistics Authority.
Besides bananas, more tropical fruits are entering the Chinese market from the Philippines. Figures from the Chinese government show that China bought more than 2 million tons of tropical fruits from the country in 2017 and 2018.
Over the past two years, China has also become the largest Cambodian rice importer with other agricultural products, such as cassava, maize and banana also being shipped in bulk, said Cambodia's Ministry of Commerce Undersecretary of State and Spokesman Seang Thay.
"For Cambodia, China is a huge market for our agricultural products. The more China buys our products, the more jobs and incomes there are for our farmers," he said.
The soaring exports of Malaysian durian, Philippine fruits and Cambodian rice to China are only one glimpse of the opportunities provided by a more open, robust Chinese market when the world trade is predicted to continue facing strong headwinds in 2019 and 2020 after growing more slowly than expected last year.
By the end of 2018, China has been Malaysia's largest trading partner for the 10th consecutive year. In the first six months of 2019, Malaysia's trade with China grew 10.7 percent to $57.35 billion, according to the latest statistics from China.
In 2018, China was the Philippines' biggest trade partner and import origin and fourth-largest export market, Philippine Trade and Industry Secretary Ramon Lopez told the China-Philippines summit in March, adding that his country wanted to promote more exports not only of agricultural products, but also higher-value products like luxury furniture, automotive parts and electronics.
Seang Thay said Cambodia-China trade volume grew steadily from $5.8 billion in 2017 to over $6 billion in 2018, and is expected to hit $10 billion in 2023.
China, ASEAN uphold multilateralism against rising protectionism
Against the backdrop of rising protectionism, China and ASEAN have been staunchly upholding rules-based multilateral trading system and earnestly promoting regional integration.
China has been one of ASEAN's most important trade and investment partners and vice versa, thanks to geographic proximity and strategic partnership between the two sides. Multilateral and bilateral free trade agreements have significantly boosted China-ASEAN trade and investment relations, Cambodian Ministry of Commerce Undersecretary of State Seang Thay told Xinhua.
China and ASEAN signed a free trade agreement (FTA) in 2004 and in November 2018, the two sides upgraded the protocol of their FTA agreement to build the largest free trade zone (FTZ) among developing countries.
The FTZ further elevates the trade partnership between China and ASEAN members and sends a clear signal of safeguarding multilateralism and free trade, Chinese Premier Li Keqiang said in Singapore while meeting with ASEAN nations' leaders in November last year.
In the China-ASEAN Strategic Partnership Vision 2030 adopted last year, the two sides agreed to realize a goal of $1 trillion in two-way trade and $150 billion in investment by 2020.
Professor Azmi Hassan from the University of Technology Malaysia viewed the China-proposed Belt and Road Initiative (BRI) as the main catalyst of the increased trade between ASEAN countries and China.
The BRI, or the Silk Road Economic Belt and 21st Century Maritime Silk Road, was launched by China in 2013 to promote trade and economic cooperation among economies along the ancient Silk Road trade routes, and to further open up markets in a mutually beneficial manner.
China and ASEAN countries are also working toward an early conclusion of the Regional Comprehensive Economic Partnership (RCEP) agreement, which is expected to boost trade and economic integration among ASEAN members and its six trading partners - China, Japan, South Korea, Australia, New Zealand and India.
"We hope that a substantive conclusion to the RCEP agreement by the end of 2019 will quicken the process of supply chain integration among the participating countries including China and ASEAN. This will most certainly lead to an increase in China-ASEAN trade and investment," Ong Kian Ming, Malaysia's deputy minister for international trade and industry, told Xinhua.
The RCEP talks, launched in 2012, will create one of the world's largest trading blocs, accounting for 45 percent of the world population, 40 percent of global trade and around one third of the world's GDP.
The growing economic interdependence between China and ASEAN has become the cornerstone of long-term peace and shared prosperity in the region, Chheang Vannarith, president of the Asian Vision Institute in Cambodia, opined.
"Against the backdrop of rising protectionism and unilateralism, China and ASEAN are compelled to deepen their economic integration and advance inclusive, open, effective and rules-based multilateral system," he said.
According to Wichai Kinchong Choi, senior vice president of Thailand's Kasikorn Bank, unilateralism and protectionism have damaged global growth. Thailand and ASEAN countries confirmed their support for multilateralism and free trade at the ASEAN summit held in Bangkok in June, he said.
China opening doors wider to world
At the G20 summit that just concluded in Japan in June, Chinese President Xi Jinping put forward a string of new opening-up measures, pledging that China will further open up its market, proactively expand imports, continuously improve its business environment for foreign enterprises, and press ahead with trade talks.
China will set up six new pilot free trade zones, open a new section of the Shanghai Pilot Free Trade Zone, and speed up exploration of building a free trade port in southern Hanan Province, he said.
China will further bring down its overall tariff level, strive to remove non-tariff trade barrier, and slash institutional costs in imports, Xi said, adding that China will make the second China International Import Expo (CIIE) a success.
The open policy by the Chinese government has led countries like Malaysia to conclude that China is a more reliable trade partner. The trade data demonstrated that ASEAN countries "are buying up or taking the opportunity" provided by China that is more open to the world, Professor Hassan from the University of Technology Malaysia told Xinhua.
In November 2018, China held the first CIIE in Shanghai, attracting more than 3,600 companies from 172 countries, regions and international organizations to showcase their achievements and look for more chances of international cooperation.
The import fair, which will be held on an annual basis in the years to come, will serve as evidence of China's support for globalization and willingness to share growth opportunities with the world.
In the next 15 years, China expects to import goods worth $30 trillion and services worth $10 trillion. Last year, China's total imports rose 15.9 percent to hit $1.8 trillion.
China has also been holding an annual China-ASEAN Expo in Nanning, capital of Southwest China's Guangxi Zhuang autonomous region, since 2004.
Over the years China has expanded its exports of electronic products, construction materials, power equipment, construction machines, as well as technology in new energy, high-speed trains and agriculture to ASEAN countries, while the regional bloc's food, daily goods and bulk commodities have gained access to the Chinese market.
China is playing a very important role as the global economic stabilizer and driving force to alleviate, reduce and ultimately eliminate poverty in the region, Joseph Matthews, a senior professor at the BELTEI International University in Phnom Penh, said.
"The China-ASEAN or China-Cambodia relationship and partnerships are on the rise, and in the future this relationship will grow stronger and closer," he said.