Online platform makes transplant follow-ups simpler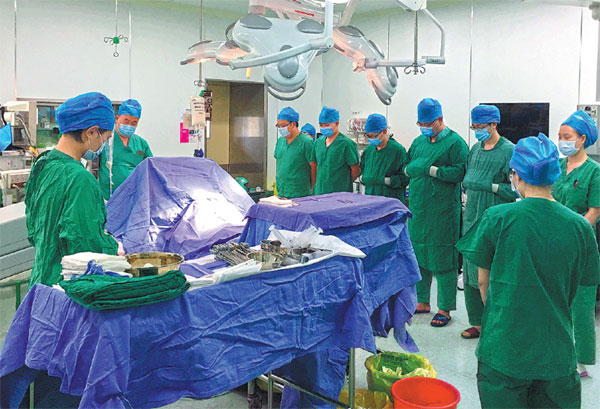 The painstaking post-surgical process following an organ transplant surgery was made a little easier for all parties involved, as China's first online organ transplant follow-up platform was launched on Thursday, thepaper.cn reported.
With this innovative platform, patients don't need to return to the hospitals where the transplant was carried out after their transplant surgery is complete. Instead, they can go to a local hospital for reexamination and upload reports to the platform for online diagnosis from the doctors who performed the surgery. The results of these post-transplant follow-up visits can then be stored on the platform.
Previously, Tianjin First Central Hospital took part in a pilot program for the platform. A number of medical institutions in Hangzhou, Shanghai, Zhengzhou, Chengdu and Changsha will launch the platform in the near future.
"After organ transplantation, patients need long-term medication and frequent re-examination," said Zheng Shusen, an academician at the Chinese Academy of Engineering and director of the Key Laboratory of Organ Transplantation Diagnosis and Treatment at the Chinese Academy of Medical Sciences.
The traditional follow-up visit mechanism has many problems, including insufficient communication between doctors and patients, inconvenience and fragmented follow-up visit data, Zheng said. He believed the online follow-up visit system is necessary for both doctors and patients.
Xia Qiang, deputy director of Renji Hospital Affiliated to Shanghai Jiaotong University School of Medicine, said sorting and reviewing medical records of the patients after traditional follow-up visits takes a lot of energy. Fragmented paper-based medical records can also hinder the building of structured personal medical records and the advancement of academic research in the field of transplantation.
"Our original intention (with building the platform) was to solve the pain points that plague doctors and patients after the transplant surgery," said Dong Yu, director of internet healthcare at Alibaba's healthcare arm Ali Health, which developed the platform.