Zhengzhou aiming to ace debut as 'premier' showcase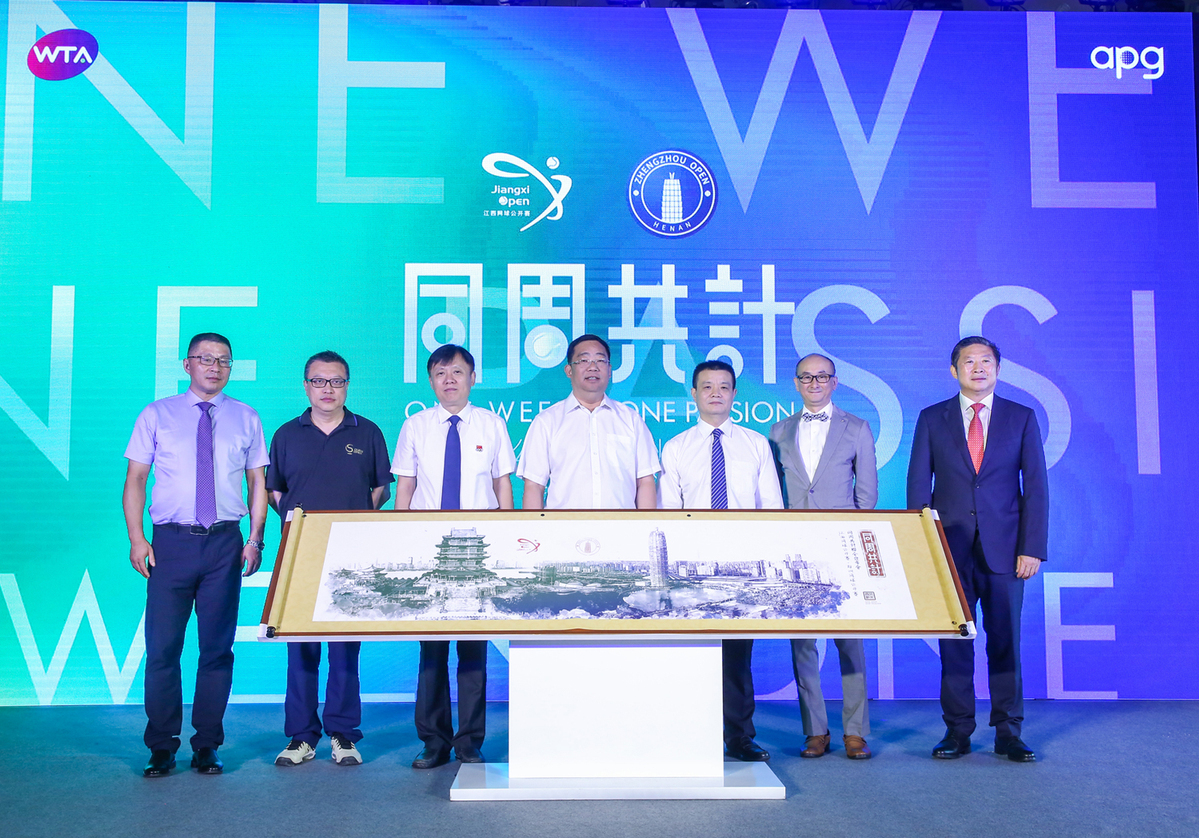 The newly upgraded Zhengzhou Open is primed to take tennis' popularity in China to the next level-back where it all began.
It's 15 years since Henan province native Sun Tiantian and Li Ting won women's doubles gold at the 2004 Athens Olympics to spark the beginnings of China's tennis boom.
So, with the September tournament in Henan's capital promoted to 'premier' status on the WTA calendar for the first time, if feels like the sport is going back to its roots here.
"For me, it's a dream come true," said Sun, now a deputy director of the tournament's venue, the Zhongyuan Tennis Center.
"Back in my playing days, I'd always hoped I could play a pro tournament at home and now the younger generation can do what I couldn't.
"I hope this tournament will attract more people to the sport in Henan and help further grow interest in the game."
Zhengzhou is among 12 premier WTA events this year and will launch the tour's Asian swing a week after the US Open, from Sept 9-15, with a total prize pool of $1 million.
That will be upped to $1.5 million next year when a new 8,000-seat stadium is opened.
The winner of the 32-spot singles draw will be awarded 470 ranking points.
Zhengzhou's jump from the lowest to the third-highest WTA category is impressive, given the tournament only made its debut on the women's professional circuit in 2017.
The financial might of Chinese organizers and local governments' willingness to tap into the international tourism potential of high-profile events have helped fuel the increase in the nation's pro tennis events in recent years.
"A mature tennis culture plays a huge role in a host city's development in sports and tourism-related businesses, as well as mass fitness," said co-tournament director Rong Chang'an.
"By bringing this event to a higher level, we are pushing forward in the process to become a major global tennis destination."
Even as a 125K series event, last year's Zhengzhou Open attracted a strong international field, including Russia's former world No 2 Vera Zvonareva and 2009 US Open semifinalist Yanina Wickmayer of Belgium, with homegrown star Zheng Saisai the eventual winner.
This year, organizers are working to ensure a schedule overlap with the Jiangxi Open in Nanchang does not hinder either event.
Charles Hsiung, president of the Zhengzhou Open's organizing agency APG, said both host cities are collaborating to resolve any issues.
"We do not appreciate having two events in one week, which provides challenges in broadcasting and player participation," said Hsiung.
"But we, as Chinese, have the ability to resolve the issue as best as possible. To this end, we are happy to come together to work out plans for broadcasting and player appearances.
"We are very pleased to create a win-win situation to double up the exposure of the unique culture of China to the world."
sunxiaochen@chinadaily.com.cn