Xie Siyi retains 3m springboard title to make it seven in a row for China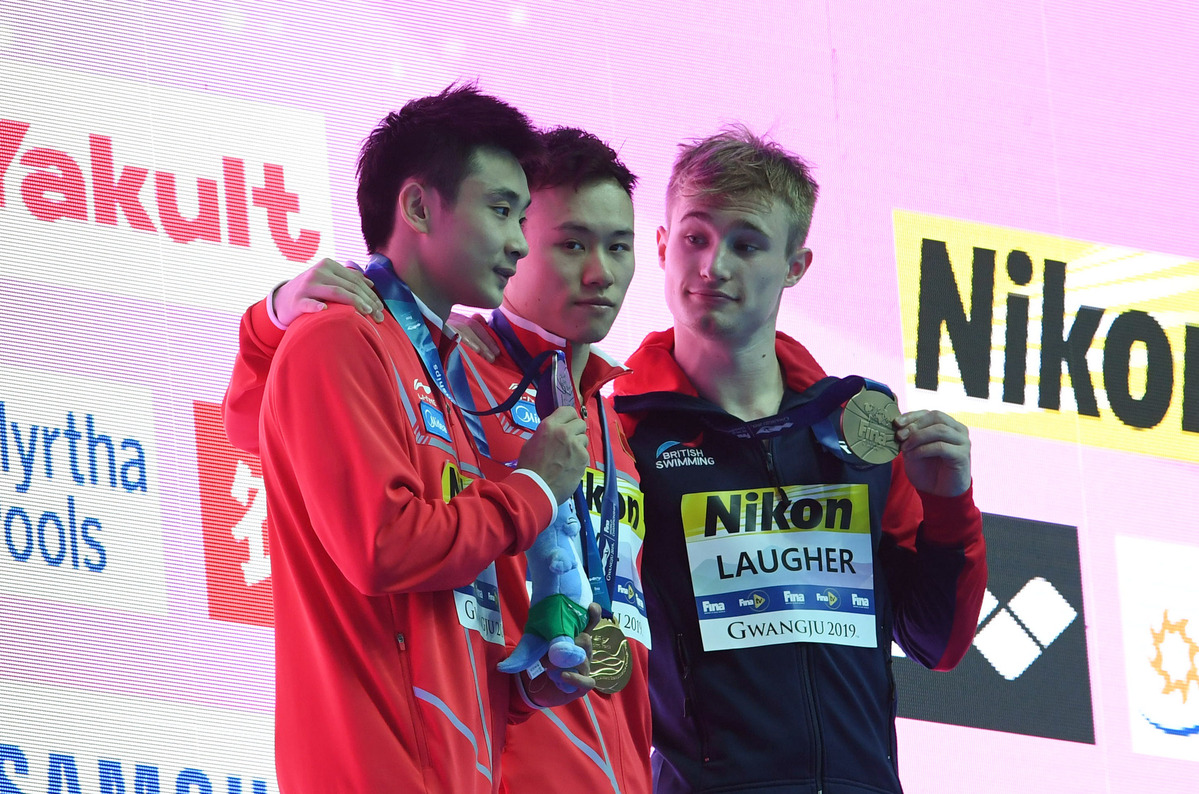 GWANGJU - A last-dive collapse cost British star Jack Laugher the gold medal in the men's 3m springboard at the FINA World Championships here on Thursday, allowing reigning champion Xie Siyi to defend his title, extending China's winning streak in the event to seven since 2007.
The last non-Chinese champion was Alexandre Despatie of Canada, who took gold at the 2005 Montreal Worlds. Since then, Qin Kai, He Chong (three times), He Chao and Xie Siyi have continued China's unbeaten run in the event.
The men's 3m springboard final was a three-man showdown between Laugher, Xie, and China's 2016 Olympic champion Cao Yuan.
Laugher, a fifth place finisher two years ago in Budapest, took the lead at the start and scored an event-high 105.30 for his fourth attempt 5156B (Forward 2 1/2 somersault 3 twist). His 109C (Forward 4 1/2 somersault) was as high as 102.60, about 30 points higher than the closest Xie managed, before making a mistake in his final 207C (backward 3 1/2 somersault tuck) dive and only scoring 30.60, the lowest among all the finalists. The 24-year-old then fell to third place with 504.55 points.
Xie started from fourth in first round, then stayed among the top three with Cao before his last 109C dive, which was his only 100-plus score of 102.60. He collected a total of 545.45 to take the gold.
"It was a close contest and Jack performed very well today. I looked at the scoreboard after the third round and then I focused on myself. It was very difficult for me to get high scores during the whole competition and when I heard the results, I roared to myself that I fought until the last moment. I was proud of myself as I regained the title," said 23-year-old Xie.
Cao, who had already taken gold in the synchro 10m platform and 3m springboard at the 2019 Worlds, collected his third medal of the tournament by finishing with 517.85 to take silver.
"It was the first time that I have competed in three events at the Worlds. I was under great pressure, both mentally and physically. I had some errors in my last two dives, but I was tired and I tried my best today," Cao said.
Laugher cried in the arms of his coach after an error in his final dive.
"I had an amazing five dives before I made a mistake in my last 207C. It hurt me a lot because I am passionate about diving," Laugher said.
Woo Ha-ram of South Korea finished fourth in 478.80 and 2012 Olympic gold medal winner David Boudia of the United States ended up in fifth place.