Green routes to high-quality development
By Cheng Yu, Hu Yuanyuan and Zhang Xiaomin in Dalian, Liaoning province | China Daily | Updated: 2019-07-15 08:10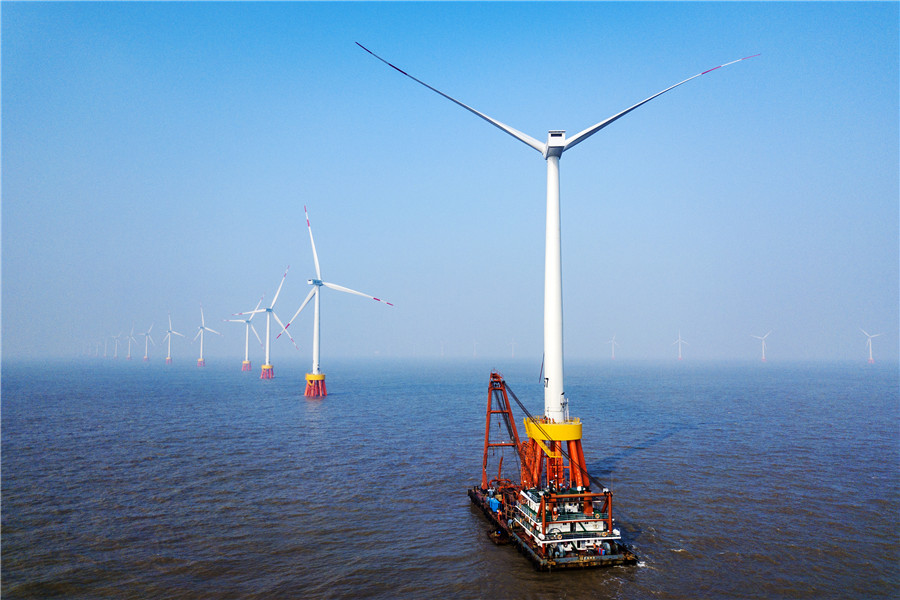 BRI champions global prosperity via eco-friendly infrastructure and technology
Clean energy, environmentally friendly technology, green infrastructure, planet-preserving finance... sustainable economic development on a global scale is achievable with sustained efforts, sharp focus, visionary policy and imaginative project implementation-that's the takeaway for umpteen businesses participating in, and benefiting from, China-led Belt and Road Initiative, experts said.
The BRI is getting greener, they said. China spearheads the BRI to create transcontinental infrastructural and trade networks across land and sea routes, so as to deliver development and prosperity to billions of people around the world.
More businesses are sewing up plans to invest trillions of dollars to promote environmentally friendly infrastructure and technology projects in over 130 economies participating in the BRI.
And given the BRI's global scale, the go-green thrust on development will have far-reaching impact on the participating economies in the coming decades, they said.
"With the deepening of the BRI, green development should be taken as a top priority, in addition to other key factors like gross domestic product and employment," said Ma Jun, chairman of the Green Finance Committee of the China Society for Finance and Banking.
Ma made the remarks at a panel discussion during the World Economic Forum's Annual Meeting of the New Champions 2019. Known as Summer Davos, the event was held in Dalian, Liaoning province, earlier this month.
"The majority of investments worldwide in the coming decades will be in the BRI economies. So, the initiative is expected to drive a huge amount of capital globally," said Ma.
The timing of his remarks coincides with China's newfound focus on environmentally friendly development via the BRI, to be in line with the UN 2030 Agenda for Sustainable Development.
China's stance is expected to inject fresh impetus into efforts for economic development in BRI economies. Green BRI is also part of China's broader efforts to promote high-quality development. High-quality infrastructure construction will greatly improve environment and lead to high-quality economic growth, experts said.
President Xi Jinping shared his vision for green development at the first Belt and Road Forum for International Cooperation in May 2017.He urged participating economies to embrace "the new vision of green development and a way of life and work that is green, low-carbon, circular and sustainable".
Xi reiterated his vision at the second BRF in April this year. Joint development of the initiative is also aimed at building an open and green development road, he said.
China and other BRI economies reached a broad consensus at the forum on high-quality, green development. The country aims to bring greater development opportunities to other countries around the world through the BRI.
Jeffrey Wong, head of advisory at market consultancy KPMG China, said at Summer Davos: "During this process (of BRI-related development), Chinese companies are actively engaged in a lot of environment-related projects, such as renewable energy like wind and solar, clean energy including LNG and LPG as well as environment utilities."
These projects have helped reduce consumption of energy and boosted the development of local economies, he said.
For instance, Chint Group, a Chinese industrial electrical equipment and new-energy enterprise, is helping construct several hundred photovoltaic power stations in economies relating to the BRI.
Photovoltaic, generated by solar cells, is a clean and renewable energy. It has long been considered the key to a country's efforts to transform its energy mix and boost safety.
Nan Cunhui, chairman and founder of Chint, said: "While helping build photovoltaic infrastructure, we also brought our most advanced clean technologies and concepts to BRI economies, especially the underdeveloped ones, and that turned out to be an important accelerator of local economic and social development."
The Leqing, Zhejiang province-based firm has also offered its high-and low-voltage products and services to 80 percent of the BRI markets including Pakistan, Thailand, Egypt and Russia, Nan said.