PSG primed for China mission
Share - WeChat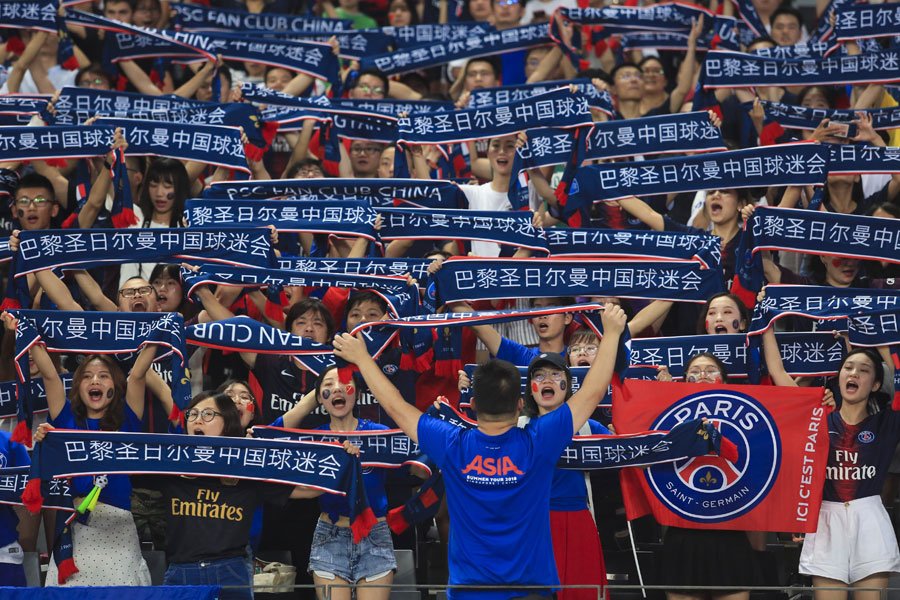 French giant's preseason tour aims to build on success of Wang Shuang's stay
Paris Saint-Germain remains bullish on making further inroads into the Chinese market despite women's star Wang Shuang's departure from the club.
The Team China playmaker last week left the French giant to resume her career back home with one year still to run on her contract.
However, undeterred by Wang's exit, PSG is renewing its efforts to boost its Chinese fanbase with a 12-day, three-match preseason trip for its men's team to the world's most populous nation.
"China is a country which is developing rapidly in football and eager to learn from and welcome European clubs. It's a pleasure for us to come to China for the second year in a row," PSG's Asia-Pacific managing director, Sebastien Wasels, told China Daily last week.
PSG begins its Chinese tour against Suning-owned Inter Milan in Macao on July 27 before moving on to Suzhou, Jiangsu province, to face Sydney FC on July 30 and then traveling south to take on Rennes in a French Super Cup showdown in Shenzhen on Aug 3.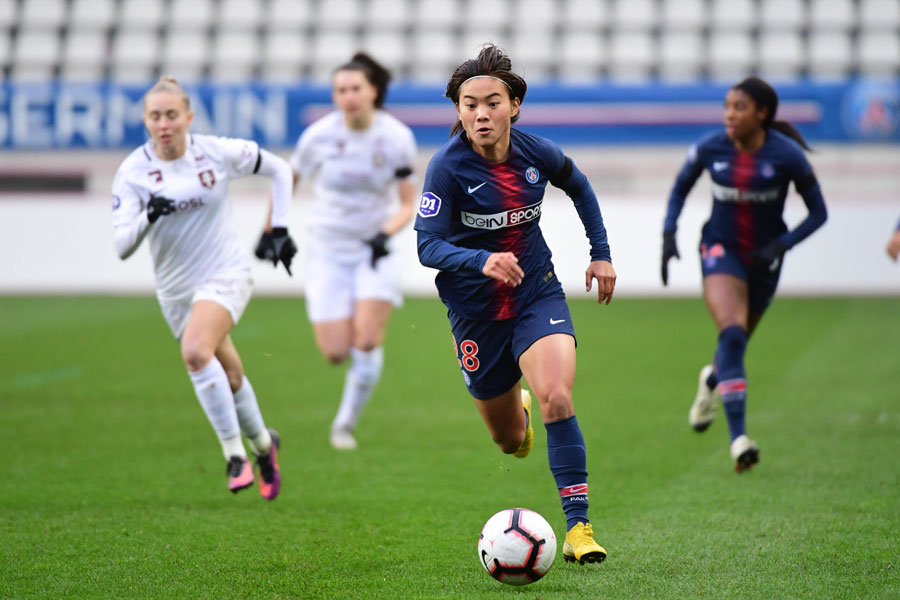 The Super Cup, or Trophee des Champions, played between the winners of Ligue 1 and the French Cup, will be a revenge mission for PSG after it was stunned by minnow Rennes in the domestic cup final in April.
PSG won the Super Cup's two previous Chinese editions, against Guingamp (2-0) at Beijing's Worker's Stadium in 2014 and last year against Monaco (4-0) at Shenzhen's Universiade Sports Center.
The Paris side has vowed to fly all its available superstars, including Neymar and Kylian Mbappe, to China.
"Those games are not going to be friendly matches for us. They are real tests to win the first cup for the season," said Wasels.
"We want to start the season the best way possible by bringing home a trophy, just like we did last year."
Win or lose in Shenzhen, Wang's exit is undoubtedly a blow to PSG's ambitions to expand its brand in Asia.
The 24-year-old attacking midfielder decided to terminate her two-year contract, signed last August, following Team China's elimination by Italy in the last 16 of the Women's World Cup in France.
Wang scored eight goals (including one in the Champions League) and contributed seven assists in 27 appearances for PSG.
Despite the premature end to her Paris adventure, which was reportedly because of a schedule clash between the French league and China's 2020 Olympics qualifiers, Wang made a major impression at the club.
"In one season with us, Wang really made her mark and won the hearts of all PSG fans," said Bruno Cheyrou, PSG women's sporting director.
"On the pitch, she showed her true talent, seamlessly integrating into the squad. Off the field, she has become an iconic symbol who has contributed enormously to the club's reputation in China."
An May online mini-series documenting Wang's daily adventures in Paris attracted eight million views and translated into an impressive spike in PSG's Weibo followers - jumping by 332,000 to a total of 1.65 million.
"As far as how she helped us in the brand awareness in China, it has been tremendous," Wasels said of Wang.
As a relative latecomer to the Chinese market, PSG is now focused on catching up with its major European rivals here.
"Obviously we came after the others but we believe that we are at least as dynamic as they are and we hope we can close the gap and join the top three popular clubs in the coming years," said Wasels.
Backing up those words, PSG last month signed a partnership with Chinese insurance giant Pingan Group to stage 200 trials for kids across 16 Chinese cities this summer.
Through the initiative, 50 outstanding youngsters will be selected to participate in PSG's academy program in Paris, which will include a two-week training camp and visits to the club's Parc des Princes stadium.
Both PSG and the French national team are renowned for their youth development, so hopes are high the club can help China unearth its own Mbappe.
"PSG has a strong tradition in player development and this is where we can make a difference and offer more support to the Chinese program," said Wasels.
Meanwhile, PSG opened its first fan experience zone in China last year at Shanghai's downtown Xuhui district. The area featured an indoor pitch replete with FIFA-approved artificial turf, rooftop fields, a merchandise store and a club-themed restaurant with big screens.
The club has also sponsored a Chinese e-sports team to compete in Dota 2 competitions as a way of targeting younger fans.
Most Popular
Highlights
What's Hot