Tower firm planning alliances to reduce 5G network expenses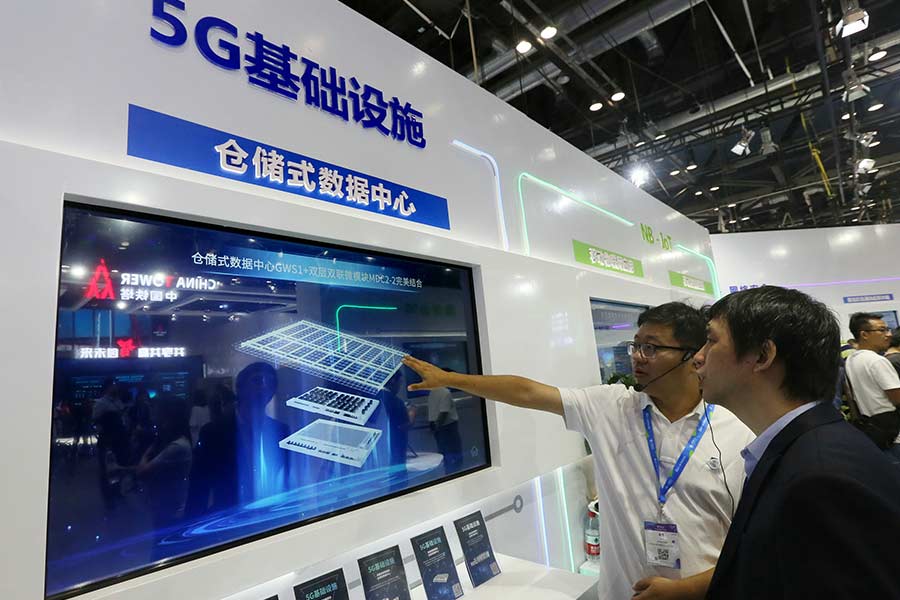 China Tower Corp, which manages most of the nation's telecom towers, is working to reduce the construction cost of 5G networks across China by sharing existing public resources as much as possible.
Gu Xiaomin, general manager of China Tower, said with provinces, autonomous regions and municipalities across China scrambling to build the network for the fifth-generation mobile communication technology, it becomes a key issue how to quicken the roll-out while not putting too much financial pressure on telecom carriers.
"Our solution is to partner with railways, real estate, power grid, transportation and other sectors to leverage their existing tower resources, to cut the construction costs," Gu said.
Telecom towers are where base stations are set up to receive mobile signals and they are the key part of a communication infrastructure. China Tower Corp is finding ways to place base stations on electric poles and light poles among others to reduce unnecessary construction of new telecom towers.
The move came as more base stations are needed to support 5G network than 4G networks. The new-generation superfast technology has higher frequency and one base station can cover a smaller area with mobile signals.
"We have prepared for dozens of millions of towers for 5G. And 80 percent of micro 5G base stations nationwide will be constructed on existing electric poles, light poles and other forms of towers, which will dramatically lower (the) cost," Gu said.
The 5G telecom infrastructure at the Beijing Daxing International Airport has already been finished by following such a model of sharing resources, the senior executive said.
Established in 2014, China Tower handles the tower assets of the nation's top three telecom carriers - China Mobile, China Unicom and China Telecom. Its aim is to reduce duplication of construction and expenditure. The three companies are its shareholders as well as its major clients.
The move is part of the Hong Kong-listed company's efforts to strengthen cooperation with energy and other companies. The cooperation is based on the fact that telecom towers can be shared by different industries because they have access to both wired and mobile networks and are linked to a steady power supply.
Fu Liang, an independent analyst who has been following the telecom industry for more than a decade, said the sector demands huge capital support to build out 5G and China Tower's solutions can ease the financial burden on telecom operators.
China is forecast to invest $184 billion into 5G network construction by 2025, an estimate by Global System for Mobile Communications Association, which represents the interests of mobile operators worldwide.