Bringing prosperity to paradise
Share - WeChat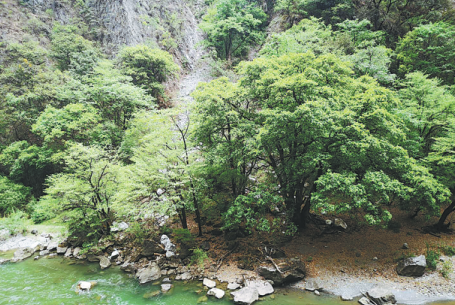 Visitors stay in five-star accommodation in Shangri-La and a boutique hotel in Dechen, where they can see the Meili Snow Mountains from their rooms.
Many watch sunrises over the highest peak, the 6,740-meter-high Khawa Karpo. It's considered auspicious to see the summit that's usually shrouded by mist and clouds.
"Poverty alleviation through tourism sustainably increases locals' incomes," Shangri-La's deputy mayor, Jiang, says.
"It's important to transform and upgrade tourism to increase the brand awareness of programs related to local culture and folk customs. The key is locals' desire to become involved in poverty alleviation through tourism."
Rural cooperatives distribute profits among villagers who have invested in tourism-development projects at the end of the year.
Jiang says she has great respect for a young ethnic Tibetan man from Shangri-La named Norbu, whose right leg was amputated after a car accident. He formed a cooperative for over 20 people with disabilities to raise black goats. Their herd today exceeds 1,000 and provides steady income.
"These people are salt of the earth," Jiang says.
"They want better lives. Their hardworking spirit of perseverance is indispensable to our national fight against poverty."
Authorities are also sending officials and tourism-industry staffers to visit other scenic areas in China to learn from their successes.
A high-speed railway linking Shangri-La and Yunnan's Lijiang city will be completed next year, reducing travel times between the two tourism hot spots to one hour. A highway connecting them will also open next year, reducing driving times from four hours to 1.5 hours.
Dechen county's vice-magistrate, Wu Chen, is another CTS employee who has taken a temporary local-government position in Yunnan.
"We encourage villagers to renovate their residences into homestays and construct such infrastructure as public toilets and small shops," Wu says.
Dechen's Niding village is building a Tibetan-style boutique hotel for tourists, who come for mountain views and hiking. It hopes to develop road access and travel facilities.
"The greatest challenge in rural areas is the lack of funding and amenities," Wu says.
"The priority is to improve the fundamentals for scenic areas to ensure visitors enjoy these new destinations."