Mahjong becoming more popular in US
Share - WeChat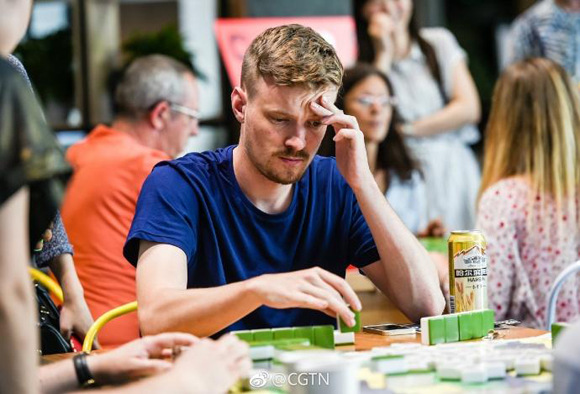 Every Monday, about 100 women-mostly from the Upper East Side of Manhattan in New York City-gather at a Park Avenue restaurant for one thing: to play mahjong, a dominoes-like game that originated in China.
"My members, most of them are from Manhattan, and I'd say the majority of them are from the Upper East Side, but I've got West-siders, I have a few people from Brooklyn," said Linda Feinstein, organizer of the Manhattan Mah Jongg Club.
"I have a group that comes in from Beverly Hills every single year for 10 days, and they play mahjong on one of the Mondays," she said.
Feinstein, who learned mahjong on a family trip when she was 9, started a mahjong club in 2005.
"It's just absolutely amazing how everybody just falls in love with it and becomes addicted to it," Feinstein said. "People don't just play here on Mondays-they play throughout the week."
Originating in China during the Qing Dynasty (1644-1911), the game played with tiles has gained popularity among US players since it was first introduced to the United States in the early 1920s.
Gregg Swain, co-author of the book Mah Jongg: The Art of the Game, called the rules of mahjong in the United States "very, very different" from the Chinese game.
In the 1920s, when mahjong was first being exported in a big way, Joseph P. Babcock, who helped introduce the game to the world, decided that the Chinese rules were too complicated for Westerners. Babcock decided to simplify the game, and many companies that made mahjong sets simplified the game even more, Swain said.
In 1937, five women from New York got together and created the National Mah Jongg League. "They took a few principles of the Chinese game, but they really made it be their own," she said.
Starting in 1937 with only 32 members, the league now has more than 350,000 members and serves as the arbitrator for everything that relates to the game in the US.
Annelise Heinz, an assistant professor of history at the University of Oregon, said the aesthetic appeal of the game and its enjoyable intellectual challenge and deep cultural heritage have contributed to a renewed attraction for younger generations.
Mahjong is becoming increasingly diverse in the US. Many veteran players are crossing ethnic and generational boundaries to learn other styles of play.
Recently a talk-show host asked Oscar-winning actress Julia Roberts what she did to relax. "I play mahjong with my girlfriends once a week," Roberts said. "The concept of it is to create order out of chaos based on a random drawing of tiles."