Smartening automakers with finest steel
Share - WeChat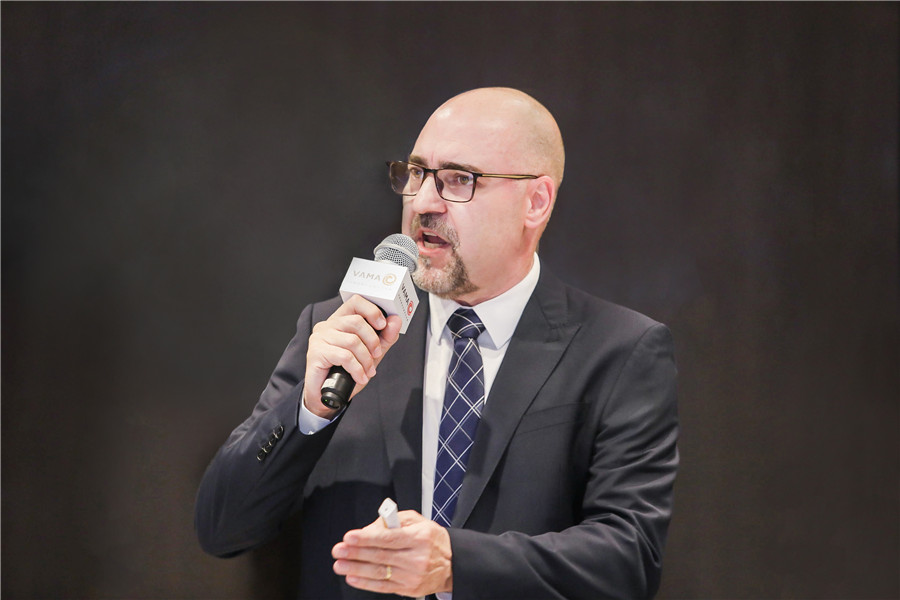 Fernando Teixeira drives VAMA's strategy to lower emissions and enhance safety
For Fernando Teixeira, a love of engineering and the search for a better life led him to accept a top job with an industrial group. As CEO of Valin ArcelorMittal Automotive Steel Co in China, or VAMA, for the last four years, he refreshed its marketing strategies and developed a sense of the country's consumption upgrade, which was visible even in vehicle sales.
VAMA is a joint venture between Luxembourg-based ArcelorMittal and State-owned Hunan Valin Steel located in Loudi, Hunan province, with an annual production capacity of 1.5 million metric tons of steel. It supplies high-end steel to the automotive industry.
Despite declining growth in the assembled car market last year, sales of high-end vehicles, electric vehicles and the next-generation cars have continued to rise as Chinese consumers now expect more from their vehicles, said Teixeira.
Producing thinner high-strength and energy-saving steel products is the key to remaining competitive in the business, he said.
The market for materials in the automotive industry is fairly competitive. The proliferation of alternative materials, such as aluminum and composite materials, which are often referred to as new materials, has give steel the image of a "traditional material".
"But what we should understand is that steel for the automotive manufacturing sector is constantly changing, and the materials used in the car today are not comparable to the steel of a decade ago."
The joint venture benefits from ArcelorMittal's technology accumulation and global resources, including over 199,000 employees, 12 research and development centers, industrial facilities and supporting facilities in over 60 countries and regions, Teixeira said.
VAMA will push its next-generation press-hardening steel into the Chinese market soon to help carmakers reducing vehicle weight, lower emissions and enhance passenger safety.
Teixeira said VAMA is looking for the right time to expand its manufacturing facilities in Hunan as the company's sales revenue in China posted double-digit growth last year.
"Operating a plant in central China's Hunan province brings VAMA closer to suppliers of raw materials and provides a central location to supply our products to automakers across the country," Teixeira said.
Boosted by innovation and opening-up, Hunan province has attracted a number of automotive enterprises such as SAIC Volkswagen, GAC-Mitsubishi, BYD, and Geely, as well as other automotive suppliers including Germany's Robert Bosch GmbH.
Having lived in China for four years, Teixeira thinks the development of high-end manufacturing in China is the fastest in the world, and many domestic and global automakers are seeking solutions to get products to the market faster and lower costs. To that end, they are adopting new materials and technologies.
Automotive steel manufacturing relies on an entire industrial chain, starting from raw material procurement for steel making, hot rolling, advanced technology in cold rolling and galvanizing and finally sales and comprehensive services, said Zhao Ying, a researcher at the Institute of Industrial Economics, which is part of the Chinese Academy of Social Sciences in Beijing.
"From the beginning of the vehicle design, there will be lot of requirements for the original equipment, especially in material and tire technologies, which usually take between two and three years to follow the vehicle model to develop together," Zhao said.
Under such circumstances, challenges and opportunities co-exist for suppliers of raw materials and parts. They must sense the market trend in advance, and create extra time to deploy the right kind of resources to improve their product content and meet demand over the next two to three years, he said.
Teixeira believes that China's new energy vehicle market, especially in the electric vehicle segment, will see stable growth in the long term.
"Young consumers in China no longer use a car for long years until it is beyond repair. Rather, they tend to change cars to keep pace with the evolution of automobile technologies. They want to experience the newest features," he said.
Teixeira and his wife divide their time between Changsha and Loudi. He enjoys making beer using his professional equipment and "secret recipe", and regards himself as a fan of both regular beer and craft beer.
He also loves riding bicycle and taking part in outdoor activities. What brings him true joy, he said, is spending time with his little daughter during their spare time. Although a Brazilian, he is determined to master the Chinese language.