Park site opens to public, but protection remains a concern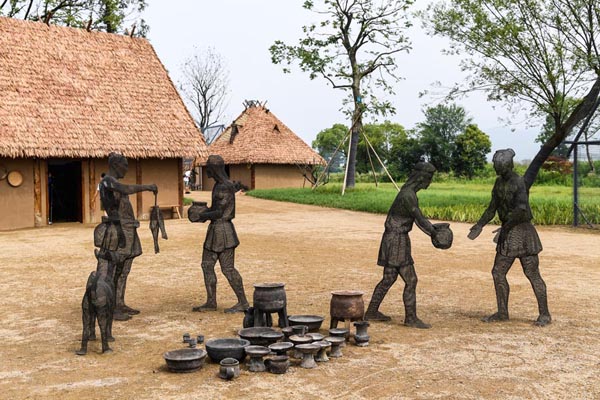 When the Archaeological Ruins of Liangzhu city were inscribed as a UNESCO World Heritage site on Saturday, the park ruins of the ancient city near Hangzhou, Zhejiang province, were finally opened to the public.
The opening came after archaeologists had toiled for decades to unveil a glimpse of ancient Chinese civilization, enlightened by the brilliance of jade.
Jiang Weidong, deputy director of the Administration of Liangzhu Archaeological Site, still has concerns about the move, though.
"There is a whole universe underground in Liangzhu," he said. "However, it can barely be seen above the ground. We've been trying to come up with ideas on how to reflect its value to tourists."
He said that unlike contemporaneous ancient city ruins in Europe or West Asia made from stone, ancient Chinese cities were constructed from earth, which was easily eroded over time. That is why these cities may look less impressive today to the general visitor.
"We want to present the public with the big picture showing what the city's social structure was like," Jiang said. "The layout of the city and its terraces have now become clear due to our cleanup campaign."
The Liangzhu Museum reopened to the public after its display area was redesigned. Exhibition halls showcasing particular archaeological sites were also set up throughout the park.
"The achievements of archaeological research need to be better told to the public in a good way," Jiang said. "People are thirsty for knowledge about Liangzhu, and our current methods of working may still appear to be 'academic'. More display channels, such as digital exhibitions, are on the way."
Protection work is still a priority. All excavated areas have to be refilled after archaeological work is completed.
Guo Qingling, director of the management and monitoring center at the archaeological site, has been preparing for the possibility of huge numbers of visitors converging on the park ruins.
An area of only 3.66 sq km, about one-quarter of the park, is open to the public, with a maximum 3,000 daily visitors through online reservation.
"Becoming a World Heritage site means that all areas of the city ruins have to be overseen well," Guo said. "We now have many digital detectors throughout the site, but we have to continue our daily patrols."
The core zone of the Archaeological Ruins of Liangzhu city covers 14.3 sq km, and the buffer zone occupies 99 sq km. Some 182 checkpoints have been set up in this vast area, and Guo and her team have to inspect every spot once a week.
"The influence of rainfall, underground water and vegetation on earthen sites is also a highlight of our monitoring system," she said. "The big data that is gathered will help us to draft plans to protect similar earthen relics in regions with a moist climate, which is a challenging task worldwide."
Protecting such a huge site is not easy. Situated in the Yangtze River Delta, one of China's most economically developed regions, the site was home to manufacturers and mining camps in the 1990s.
"It was shrouded in dust and was noisy every day," said Liu Bin, leading archaeologist at the site from the Zhejiang Provincial Institute of Cultural Relics and Archaeology. "Thanks to a painful decision by the local government to shut them down, the historical landscape has been restored."
In 2001, a municipal regulation on protecting the Liangzhu site was introduced in Hangzhou. A police station was set up alongside the site to deter tomb robbers.
Zhang Zhenfeng, Party chief of Yuhang district, where the site is located, said 860 families and 90 enterprises were moved out of the site. The villagers were provided with free housing in a nearby neighborhood.
"The cost has been huge," Zhang said. "However, it's worthwhile to respect history and help the coming generations remember it."
Archaeological discoveries at Liangzhu were first included in history textbooks for elementary and high school students in 2007, with related content expanded in updated versions. Archaeology-themed summer camps are also organized annually to raise awareness of the need to protect the site.
Huang Li, who is in charge of exhibitions and public education for the Administration of Liangzhu Archaeological Site, said: "I'm really glad when the first thing that villagers living nearby think about when they have building work going on in their backyards is to call us. They just want to make sure there is no important archaeological site under their house.
"A historical site can only be well-protected if everyone joins in," she added.