Chaoyang Theatre amazes audiences with aerial acrobatics
Share - WeChat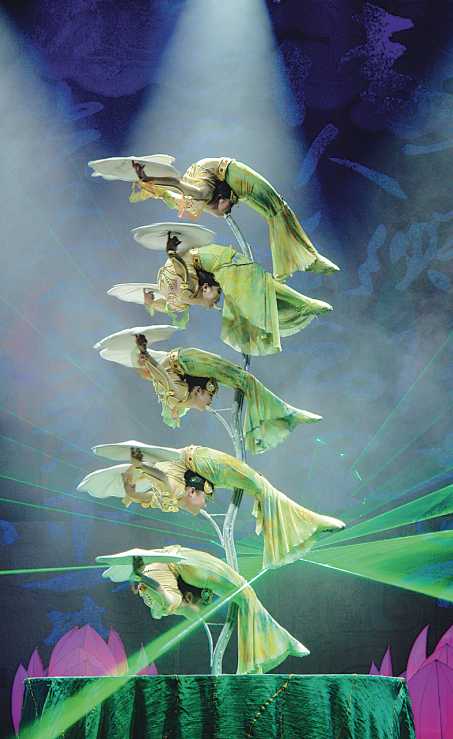 Beijing's Chaoyang Theatre has for decades been the capital's go-to destination for electrifying and awe-inspiring Chinese acrobatics performances, entertaining audiences from all over the globe.
Located in the city's Chaoyang district, the theater, which opened in 1984, has evolved from being a venue for dance dramas and opera to a must-visit destination awarded as a national center of culture in 2001.
After years of refinements, acrobatics was eventually designated as the theater's permanent theme. Chinese acrobatics is a spectacular performance art characterized by amazing physical feats and gravity-defying stunts, inspired by the struggle between humans and nature.
Acrobatics has a rich history in China. In ancient times, the art form was inspired by hunting and going to war. Historical documents show acrobatics first appeared during the Spring and Autumn Period (770-476 BC). It was refined during the Western Han Dynasty (206 BC-AD 24), when pole climbing and tightrope walking debuted on stage. The most famous performance at that time, Guang Chang Bai Xi, saw a rich variety of acrobatic acts performed simultaneously in a public square.
Chaoyang Theatre currently stages about 1,000 dazzling performances every year, including up to four daily shows in its 1,300-seat performance hall during peak season from May to October.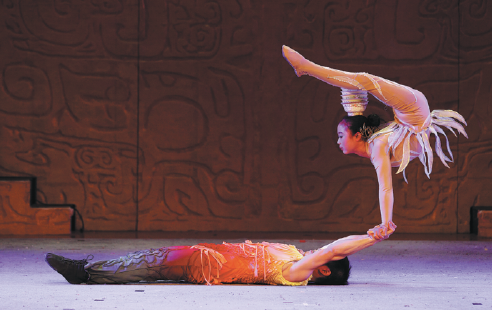 Many renowned acrobatics troupes have graced the stage at the theater, among them Deyang Acrobatic Troupe from Southwest China's Sichuan province, which has performed its acrobatics show Flying in Chaoyang Theatre for almost 20 years.
The show celebrates the ancient worship of the sun and birds by the people of Sichuan thousands of years ago. Its name was inspired by the notion that one day the human mind and body would be able to fly freely.
The storytelling mixes flips, falls, dance and high-wire spectacle with the latest in high-tech sound and lighting, to whisk the audiences away to the world of Sichuan some 3,000 years ago. At the show's climax, live peacocks and macaws from Sichuan fly over the audience to land and perch on the hands of the performers on stage.