Turkey beat China 3-1 in FIVB Women's VNL finals
Share - WeChat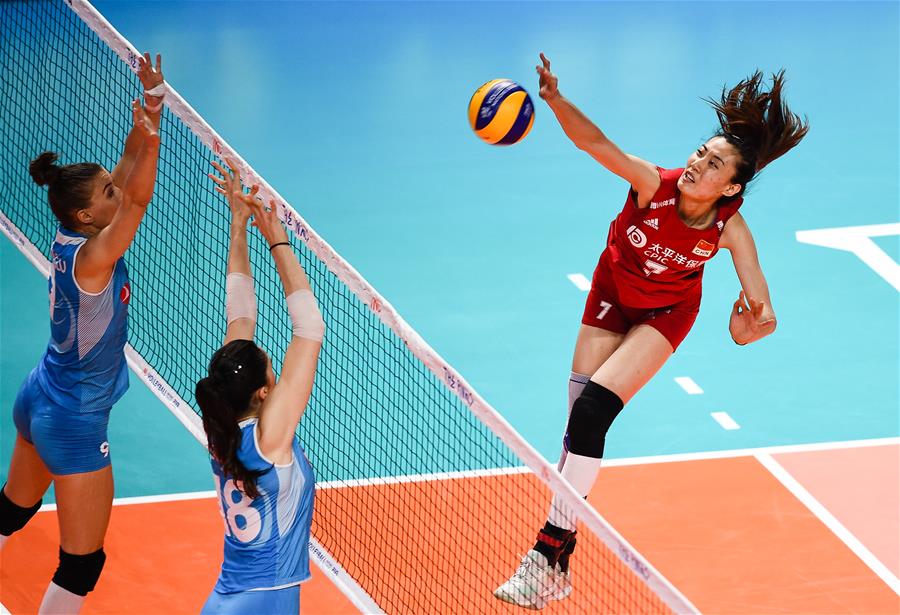 NANJING - Runners-up Turkey outclassed China 25-22, 25-19, 22-25 and 25-22 without any suspension in the FIVB Women's Volleyball Nations League (VNL) finals here on Wednesday evening.
"We had a very good and tough match tonight, the only pity is that we lost it," said An Jiajie, coach of the Chinese Team. "We hope to improve our performance in our later game against Italy (on Friday)."
Giovanni Guidetti, head coach of Turkey Team, said that "every match we played against China is a tough one as the Chinese players are always good in defense."
Liu Yanhan scored the match-high 21 points for China, with Gong Xiangyu and Zheng Yixin adding 15 and 10 points respectively, while opposite spiker Gozde Yilmaz scored the most for Turkey with 18, wing spikers Ebrar Karakurt and Meliha Ismailoglu combined for 30 for the winners.
After winning four of the five stops to lead a six-team group into the VNL finals, China chose to rest most of their Rio Olympic-winning members as the Tokyo Olympic qualifiers will kick off in August and the World Cup is scheduled in September in Japan.
Leading 8-5 at the first technical timeout, China were later caught up and both sides fought tit for tat till 19-all. Since then, Turkey led comfortably 24-21 and won the opening set 25-22.
From 0-3, Turkey scored five points in a row to overtake the lead 5-3 and enlarged the advantage gradually to 16-11 in the second technical timeout. After China managed to cut it to one point at 18-17, Turkey scored three straight points for 21-17 and won the second set again 25-19.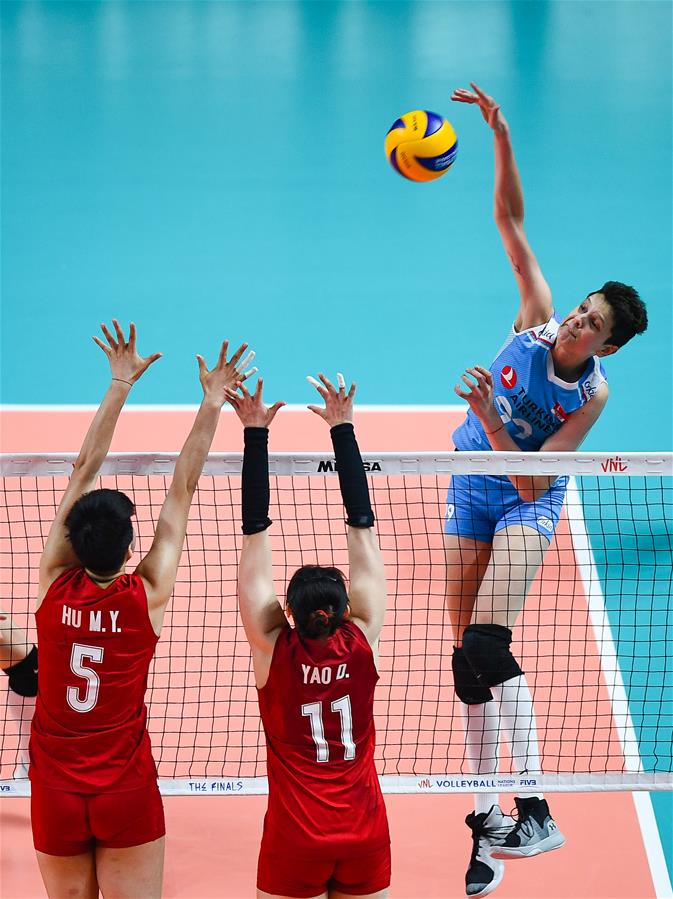 Turkey led 16-15 at the second technical timeout. From 22-all, Hu Mingyuan scored two of the three points with a block and spike to help China win the third set 25-22.
After an 8-6 lead, Turkey surged ahead 14-8 with a pair of errors from China, an serve ace and a solid block. However, China didn't give up, fighting back with three straight points for 14-11 and even cut it to two at 15-13. After Turkey led further at 18-14, China narrowed it to two points five times, the closest they could ever manage, before conceding it 25-22.
Early in the afternoon, defending champions the United States fought from one set down to beat Poland 21-25, 25-16, 25-15 and 26-24 in one hour and 46 minutes. Opposite spiker Andrea Drews scored the match-high 23 points, wing spikers Kelsey Robinson and Michelle Bartsch-Hackley added 19 and 13 points respectively for the winners, while Malwina Smarzek led Poland with 22 points and opposite spiker Magdalena Stysiak added 13 points.
The six-team finals play in a round-robin format, with the best two teams in each group advancing to the semifinals slated for Saturday.
Poland are the new comers to the VNL six-team finals after both Serbia and the Netherlands opted to reserve their best players for the Olympic qualifiers and the World Cup. With the 2020 Tokyo Olympics in sight, many teams take VNL, previously known as FIVB Grand Prix until 2018, as the best training ground to tune up for their teamwork.
On Thursday, Brazil will play Poland in the afternoon, and Italy take on Turkey in the evening.
Most Popular
Highlights
What's Hot