Chinese vehicle makers to tap potential in global markets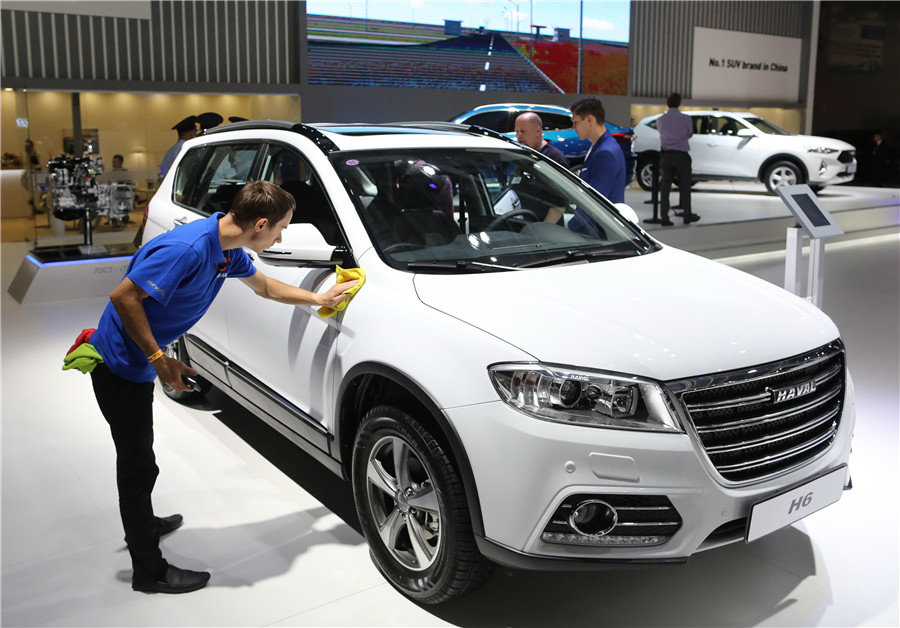 Companies make headway with JVs and acquisitions in BRI economies
China's carmakers are speeding up their expansion into overseas markets, especially in the Belt and Road economies, which is expected to boost their sales and more importantly help improve the local automotive industry.
Zhejiang Geely Holding Group, owner of Volvo Cars, purchased a 49.9 percent stake in Malaysian carmaker Proton in June 2017.Within two years, the brand has shown encouraging signs of fast recovery.
In May, Proton sold 10,711 vehicles, a 46-month high. From January to May, its sales totaled 36,157 units, up 70 percent year-on-year. By the end of April, it had become the second best-selling brand in Malaysia.
Daniel Donghui Li, chief financial officer of Geely, said one reason why Proton singled out Geely from others was that the Chinese carmaker had a unique vision for Proton's future development.
"We set a goal to help it to become the No 1 brand in Malaysia and a top three brand in the ASEAN region. The results so far are showing that we are on the right path," said Li, who is also a Proton board member, in late April.
Proton's burnished performance was mainly thanks to its model X70 launched in December. Made at one of Geely's plants in Zhejiang province, the model was built based on its popular Boyue sport utility vehicle but tweaked to meet Malaysian customer demands.
Geely said the model is just part of the story. In fact, it has introduced for Proton a comprehensive strategy covering aspects from personnel, product quality and cost control to research and development and plant renovation.
Proton engineers are also joining Geely's research teams in Ningbo, Zhejiang province, and the two sides are working to find solutions that will enable Proton to benefit most from Geely's proven system.
Ahmad Muzaimi Zainol, a Proton project manager, said after two years of cooperation, they have seen encouraging progress.
Geely is helping Proton to revamp its plants as well. The facility in Tanjung Malim is now ready to produce the X70 SUV later this year, as local assembly trials had started on June 12.
Proton Chairman Syed Faisal Albar said that the two companies' partnership has proved to be a shining example of cooperation between both countries. He also suggested that Chinese companies use Malaysia as a gateway to the ASEAN market, which has a population of 650 million.
China's Industry and Information Technology Minister Miao Wei said during the plant's opening ceremony that Geely and Proton should seize the opportunities provided by the Belt and Road Initiative, and urged them to deepen cooperation to offer globally competitive products.
Besides Malaysia, Geely has built plants in countries like Belarus, the UK and Sweden and is selling its models in more than 20 countries and regions.
Another leading Chinese carmaker, Great Wall Motors, is reaping fruits of its going-global efforts in Russia.
On June 5, a Haval F7 SUV rolled off its plant in Tula, a city 193 kilometers south of Moscow. Haval is one of Great Wall Motors' three automotive brands.
The $500 million plant is the company's largest ever investment overseas. It is also the first overseas wholly-owned full-process manufacturing plant by any Chinese carmaker.
The plant has a designed annual capacity of 150,000 vehicles, and in accordance with the carmaker's vision, around 65 percent of components will be purchased locally in Russia.
The carmaker hopes the plant will better serve local demands but also work as a base for its foray into eastern European markets, including the adjacent countries of Belarus, Ukraine and Moldova.
Great Wall Motors said it would like to make the most of the plant by producing models of other Chinese brands aiming to expand their footprint overseas.
"Going global is an inevitable trend for Chinese brands," said Wei Jianjun, founder and chairman of the company.
"The Haval plant in Russia is one of the most important parts of Great Wall Motors' overseas strategy, and it starts a new era for Chinese carmakers to sell their technology and standards to foreign markets," he said.
Great Wall Motors President Wang Fengying said the global market will become the main battlefield for the company.
"Thus, we have made a global development strategy, sped up planning internationally and expanded investment in the overseas markets," she said.
Great Wall Motors is currently selling its SUVs and pickup trucks to more than 50 countries and regions, said Wang.