On-demand trash collection may boom under new rule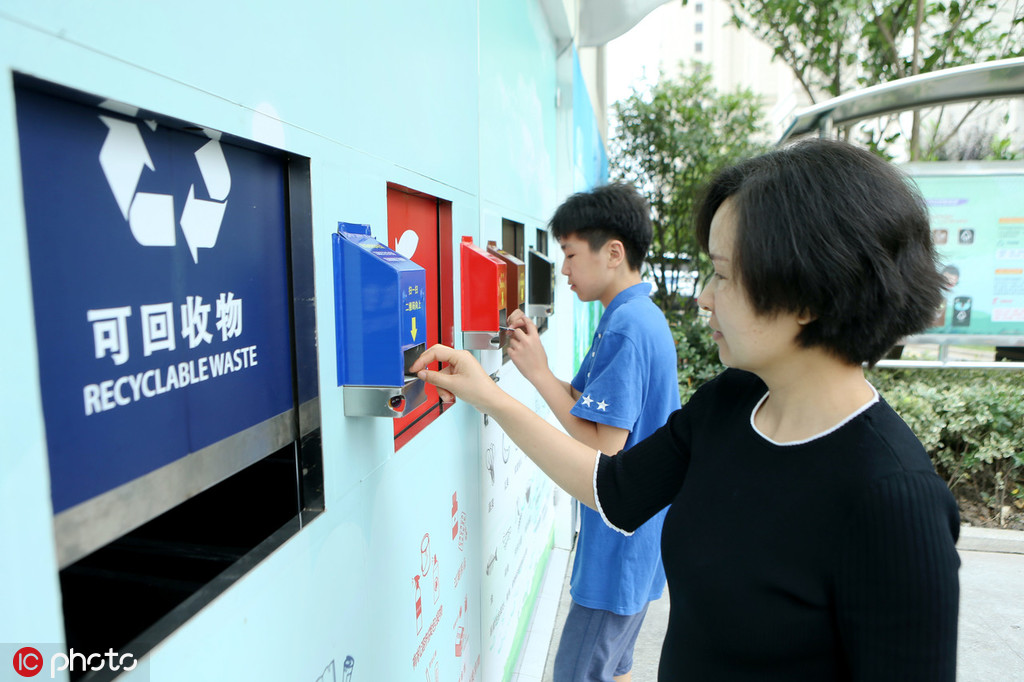 With Shanghai's new regulation on household garbage set to take effect July 1, business opportunities such as online on-demand trash collection services are emerging, according to reports.
The regulation, dubbed "the strictest waste classification measure in history" on social media, requires people to sort household trash into four categories — dry garbage, wet garbage (kitchen waste), recyclables and hazardous waste.
Individuals who fail to do waste sorting will be fined up to 200 yuan ($30), while companies and institutions' fines can go up to 50,000 yuan.
The new policy has sparked widespread discussions on social media. Although most people recognize the benefits of waste classification for the environment and resources, they find it causes much inconvenience as a practical matter in their daily lives.
"Every time before we throw away garbage, we need to find the corresponding classification, and then find the corresponding garbage can. To be honest, it is a waste of time, and it is not very convenient," some internet users complained, according to an Economic View report.
In addition, previously in some pilot communities, people could only throw away garbage at fixed time, for example, from 7:30 am to 9:30 am and from 6 pm to 8 pm, and had to queue in front of the fixed collection points because there were only few of them.
For people who are too busy to do trash sorting or whose working and commuting time clashes with the fixed times, trash disposal becomes a "stinking" burden. However, this might give birth to a new occupation -- online on-demand trash collectors.
Through an online platform, customers can book their door-to-door garbage collection services, the Economic View report described.
In fact, there are already online platforms offering such services, but they mainly focus on collecting recyclable waste rather than collecting, sorting and throwing out all kinds of household waste for customers.
At present, the payment service platform Alipay has built a garbage sorting and recovery platform on its app, which allows third-party service companies to offer door-to-door services and collect certain kinds of recyclable garbage from customers, the report said.
Luo Qi, an on-demand worker for an online garbage sorting and recovery platform, said four months after doing door-to-door recycling business, he received more and more orders every day and revenue also increased, according to the report.
"Basically, monthly income is more than 10,000 yuan, three or four thousand yuan more than before. It is not a dream to earn a monthly income of 10,000 by doing door-to-door recycling if you are diligent," Luo said.
Li Mingzhe, who does the same job as Luo, said he and his colleagues currently receive a ton of garbage every day, according to a report by China Central Television.
According to Li, more than 70 percent of urban garbage is generated by young people, while over 80 percent of the previous garbage recycling customers are middle-aged and elderly people.
Li said as online booking and offline door-to-door garbage collection fits the lifestyles of young people, he believes door-to-door recycling will become mainstream in the future, the report said.
China is accelerating garbage sorting nationwide, according to the Ministry of Housing and Urban-Rural Development. On June 6, the ministry announced cities at the prefecture level and above will start full domestic waste classification work this year.
In addition, 46 major Chinese cities should set up a basic system to classify and dispose of their household garbage by 2020, and cities at the prefecture level and above should have the system in place by 2025, according to the ministry.
The Economic View report said entrepreneurs have seen business opportunities in the garbage classification market.
It found more than 6,600 companies or institutions have a business scope covering garbage classification and in June alone, more than a hundred relevant companies were registered.