Sui Wenjing/Han Cong, Jin Boyang lead China Cup figure skating nominations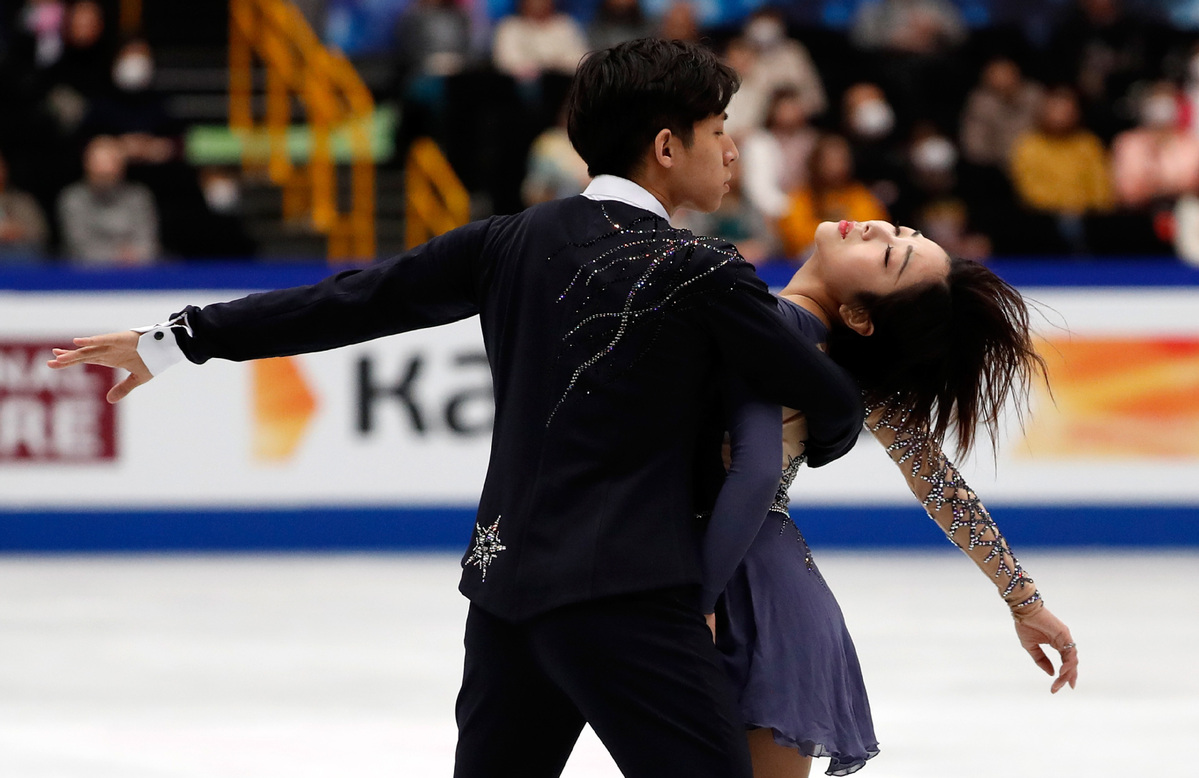 BEIJING -- World champions Sui Wenjing/Han Cong and two-time bronze medallist Jin Boyang lead China's preliminary assignments for the 2019 Cup of China, part of the 2019/20 ISU Grand Prix of Figure Skating.
The fourth event of seven in the 2019/20 ISU Grand Prix, the China Cup will be held in Chongqing from November 8 to 10. The season opener, Skate America, runs from October 18 to 20 in Las Vegas.
Sui/Han, who endured a difficult last season but ended it with a world title, will be among the favorites in Chongqing, while GP final runners-up Peng Cheng/Jin Yang will also be keen to show their best form at home. Outside the local favorites, Italy's Nicole Della Monica/Metteo Guarise will come to the China Cup for the fourth time.
In the men's competition, Jin Boyang, who finished fifth at the World Championships in March this year, will face arch rivals Vincent Zhou of the United States and Cha Junhwan from South Korea. Teammate Yan Han, who missed last season due to injury, will return this season.
New faces will be seen in the ladies' competition in Chongqing. Russia's 15-year-old Anna Scherbakova may show her quadruple jump at the China Cup, while Kazakhstan's Elizabet Tursynbaeva, who landed the first ever quadruple salchow in a senior women's competition to take silver at the World Championships this year, is also expected to show well in Chongqing. Local interest comes in the form of Chen Hongyi and Zhu Yi.
In the ice dance, China's Wang Shiyue/Liu Xinyu and Chen Hong/Sui Zhuoming are slated to take part, while world runners-up Victoria Sinitsina/Nikita Katsalapov of Russia and Four Continents champions Madison Chock/Evan Bates of the United States are the leading medal contenders.
According to the ISU Grand Prix 2019/20 nominations, Japan's superstar Yuzuru Hanyu and reigning world champion Nathan Chen will avoid each other in the regular season.
Chen will start off in the opening event in Las Vegas, with double Olympic gold medallist Hanyu opening his campaign a week later at Skate Canada in Kelowna, British Columbia.
Sui/Han will also take part in the last stop of the Grand Prix, the NHK Cup, while Peng/Jin and Jin Boyang will make their season debuts in Las Vegas.