China seen as key player in global travel market
Share - WeChat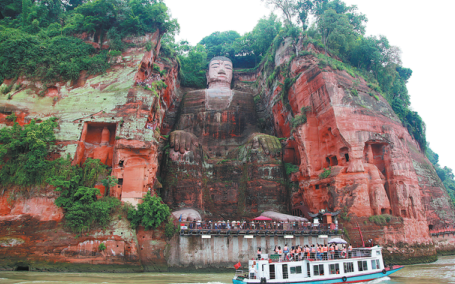 NEW YORK-The global tourism industry sees China as an important strategic market that still has great potential for growth, an industry insider says.
The global-travel and-tourism sector has reinforced its role as a driver of economic growth and job creation in 2018. And China has contributed a great part to the growth with booming inbound and outbound travel, Gloria Guevara, president and CEO of the World Travel and Tourism Council, told Xinhua on the sidelines of the WTTC North America Leaders Forum in New York.
China has become the second-largest travel-and-tourism economy in the world, and the tourism sector in the country registered growth of 7.3 percent last year, way above the global average of 3.9 percent, according to a report released by WTTC in March.
Guevara attributed China's success to its abundant tourism resources, investment in infrastructure and industry development, and the expansion of its middle class, which not only increases the movement of people within the country but also attracts more international visitors.
Nowadays, many traditionally non-mainstream destinations in China have become as popular as Beijing, Shanghai and Xi'an, says Guevara.
Recalling her first trip to Southwest China's Chengdu in Sichuan province-home to giant pandas and hotpot-the tourism expert speaks highly of the local hospitality in helping her get acquainted with local culture and specialties.
"China offers a lot of unique experiences," she says, adding that making those experiences available to international travelers will help China's tourism sector grow faster.
Another strategy for further improving the experiences of international travelers is to target various people and meet their specific demands, Guevara says.
For example, for retirees who have plenty of leisure time, Chinese travel agencies could design certain types of products and services to enable them to stay longer and visit more places.
As inbound tourism flourishes, more Chinese are traveling abroad and creating economic benefits for global destinations.
"Chinese travelers like to shop, and they stay longer, and such contributions to the local economy are significant," Guevara says.
According to China's Ministry of Culture and Tourism, people from the Chinese mainland made around 150 million trips overseas in 2018, a 14.7 percent surge year-on-year.
The United States received over 3 million visitors from China in 2018. They spent over $7,000 on average, according to the US Travel Association.
The Belt and Road Initiative is also a good example of China's effort to "connect the world" since tourism is a part of it, says Guevara.
"We are really excited because of the fact that China is making this (tourism) a priority," she says.
The WTTC, which represents the travel-and-tourism private sector globally, is committed to working with China, including helping its Chinese members do more business around the world and encouraging more international travelers to visit China, says the president.
"There's a lot of interest for companies from around the world ... to invest more in China," she says. "We see their potential, and we also see they are implementing the right policies that enable more business and more travel."