Hanfu sees revival as elegant Chinese look wins new admirers
Share - WeChat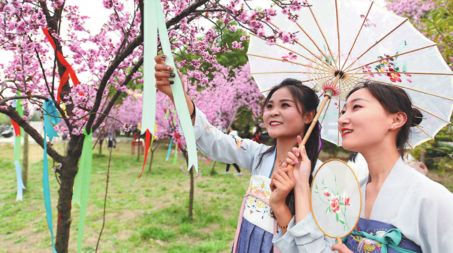 Dressed in a long-sleeved chiffon top and an orange pleated skirt, bilibili vlogger Shi Shanyi flourished her round fan as she faced the camera and told viewers about the beautiful hanfu, the traditional clothing of the Han ethnic group.
Unlike other people who wear traditional ethnic clothing on special occasions, however, Shi encourages viewers to don hanfu on a daily basis.
In some videos on her bilibili account-called maobuxiaojiejie (or Miss Catwalk in English)-Shi asks viewers to boldly wear hanfu if they really like the traditional outfit.
To demonstrate that hanfu can be worn on most occasions with modern sensibility, Shi and her friends were filmed walking through a garden, a subway station and a shopping mall in their hanfu.
Shi, along with many other young Chinese people at home and abroad, is part of the hanfu movement, in which followers seek to revitalize traditional Chinese clothing, particularly that worn by the Han ethnic group.
The movement is believed to have started about 16 years ago when Wang Letian, a native of Zhengzhou, Henan province, wore hanfu in public.
Since then, the number of people adopting the ancient style of dress in modern times has grown significantly.
Though there are no official numbers showing the recent surge, one can see people wearing hanfu on the street in everyday life. Clubs dedicated to hanfu appreciation are being set up at many universities across China, providing plenty of evidence of its popularity among young people.
So serious is this style of dress to some that they have started running businesses centered on promoting hanfu and Chinese culture appreciation.
Among them is 25-year-old Sichuan province native Zhuo Tongzhou.
After graduating with a master's degree in management from Australia's University of Sydney, Zhou, along with her boyfriend, set up a business in Sydney dedicated to promoting Chinese culture-turning down a job offer from Price Waterhouse Coopers.
Most Popular