Cross-Straits gathering brings disability issues to the forefront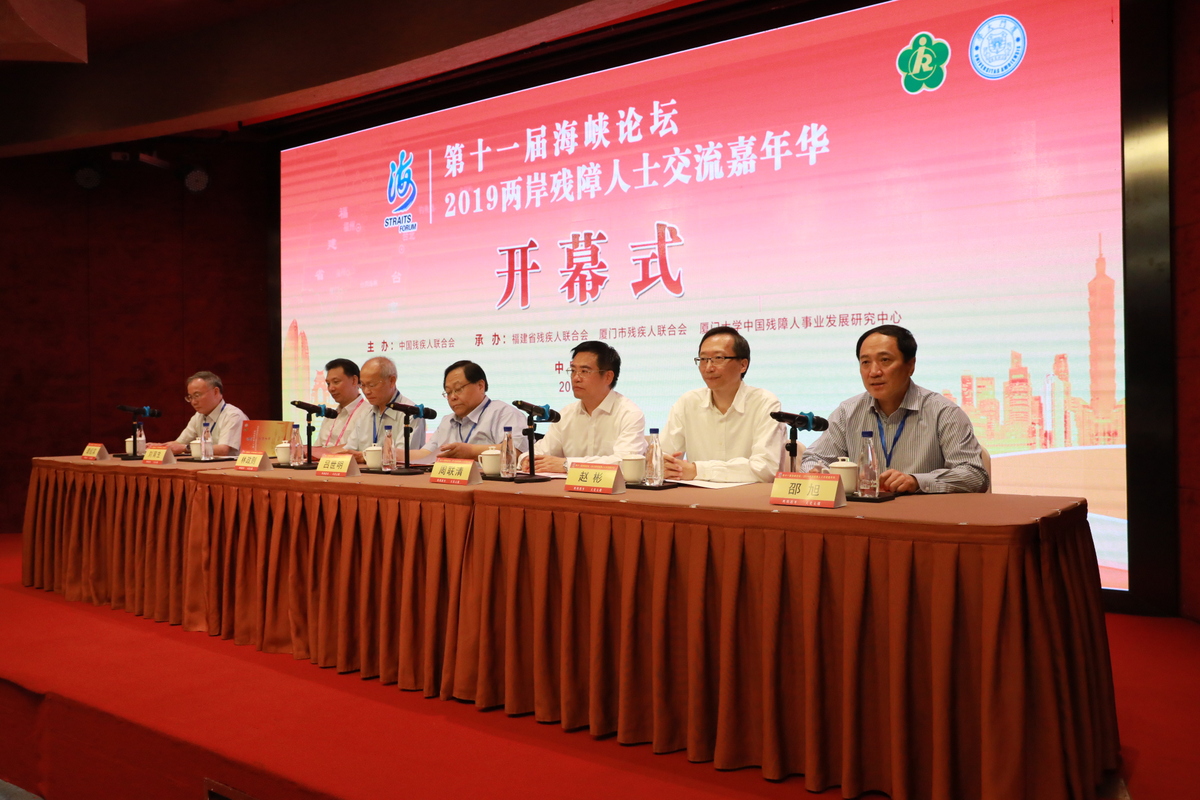 People with disabilities from Taiwan and the Chinese mainland gathered on Saturday in Xiamen, East China's Fujian province, to share experiences in disability welfare.
The three-day exchange festival for disabled people, held by the China Disabled Persons' Federation, Fujian Disabled Persons' Federation and Disabled Persons Development Research Center of Xiamen University, as well as a dozen disability organizations from Taiwan, officially kicked off on Saturday with a range of activities in a bid to promote friendship and disability inclusion across the Straits.
"The exchanges between the disabled and disability organizations across the Straits have become more frequent, which is an important part of the cross-Straits relationship," said Lyu Shimin, vice-chairman of the China Disabled Persons' Federation, at the opening ceremony.
"It has become an annual grand event for our disabled brothers and sisters across the Straits to share feelings of homesickness and friendship. It provides an important platform for them to communicate and drive common development," he added.
Lyu said they will continue to improve the cross-Straits cooperation mechanism to innovate access, content and forms of communication. He also suggested disability organizations need to step up collaboration in social welfare, employment, rehabilitation care, assistive devices and cultural and sports activities to give better services to the disabled.
"Disabled people also should be important participants and contributors to cross-Straits exchanges. I hope more disabled friends from Taiwan will come to the Chinese mainland for traveling, studying, working and living to share equal opportunities," he said.
This is the 5th festival held during the annual Straits Forum and this year's festival saw for the first time a special competition organized over therapy strategies for autism intervention.
More than 400 cross-Straits representatives from disability organizations and people with disabilities, as well as university scholars, experts and charity workers, will take part in the several activities during the event.
They will discuss issues on the protection of the rights of the disabled, mental rehabilitation and social inclusion, skills training, education, accessibility and assistive technology involving artificial intelligence during several seminars.
Lin Junq-tzer, former vice-chairman of the Kuomintang political party, said at the open ceremony that Taiwan has many charities, community volunteers and medical institutions that have been committed to protecting the interests and caring for the disabled.
"This exchange festival will be sure to help them learn from each other and grow together," he said, calling the event a "face-to-face, hand-by-hand, heart-to-heart" loving event that cares for the lives of people with disabilities.