Fans bid fond farewell to Lee and his legendary rivalry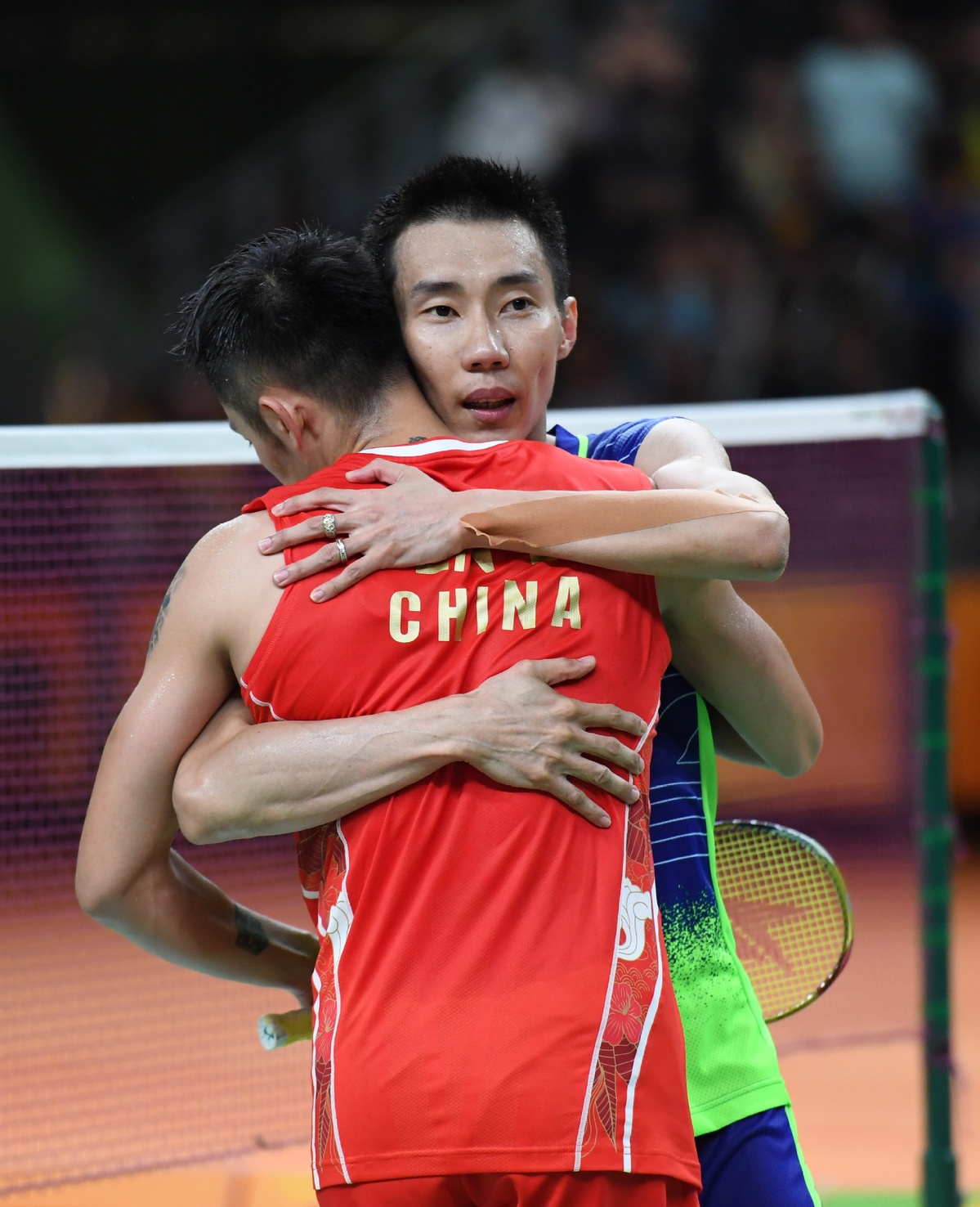 The retirement of Malaysian badminton icon Lee Chong Wei this week sparked an emotional outpouring of appreciation from Chinese fans and a touching tribute from his longtime on-court Chinese rival, Lin Dan.
Former world No 1 Lee on Thursday called time on his 19-year career due to the effects of his recent battle with nose cancer, with the player fondly acknowledging his inextricable links to China.
"I have appreciated the support of my Chinese fans for so many years," said 36-year-old Lee, whose family roots trace back to East China's Fujian province.
"I always hear them cheering for me no matter where I play. I feel so grateful to have them behind my back. I hope I can see them more in China ... at some promotional events or amateur competitions."
Responding to a message Lee posted on Sina Weibo, tens of thousands of Chinese fans left comments paying tribute to the iconic star and his rivalry with Lin, aka Super Dan.
Lin reacted to Lee's retirement immediately on his Weibo account by sharing a song entitled "Don't Cry, Friend", accompanied by the message: "Heading for the battle alone, with no more companion."
"Eventually, the day has arrived and we can say that an era has ended," Lin told The Paper.cn on Friday.
"I feel like it's possible for Chong Wei to come back. Maybe we can still meet each other on the court but it won't matter whether it's at the Olympics or not," said the 35-year-old Lin.
Lee's epic rivalry with Lin began in 2004 and spanned 40 matches, including two finals and one semifinal at the Olympics.
Ranked No 1 in the world at the time, Lee was overwhelmed by Lin in a straight-sets loss at the 2008 Beijing Games final, and again succumbed to the Chinese superstar in a thrilling London 2012 final, which drew an estimated global TV audience of over 1 billion.
Lee avenged those defeats at Rio 2016 by ousting Lin in the semifinals but then failed to overcome Lin's younger teammate, Chen Long, in his third Olympic final appearance.
Lin triumphed 21-16, 21-17 in what turned out to be their last hurrah-a quarterfinal clash at the prestigious All England Open in March last year.
The respect between the two was again evident then, with Lin remarking: "Because Chong Wei hasn't retired, that has spurred me on to continue."
Lee's unassuming character off the court contrasted sharply with the effervescent Lin, however the two shared the same mindset of pushing each other on to greater heights.
"Like Rafael Nadal and Roger Federer in tennis who are always competing ... if there's no Lin Dan, there would not be Lee Chong Wei today," Lee told Xinhua. "Hopefully, we can still work together to promote the sport off the court in the future."
Lee also wished Lin well in his ongoing quest to qualify for a fifth Olympics. "We may no longer be opponents but we are still good friends. I am looking forward to seeing him play at the Tokyo Games," he said.
Lee was ranked No 1 for 200 straight weeks from 2008-12 and won 69 major titles, including 47 in the World Tour's super series, four All England Opens and two Asian championships.
Doctors have assured him his cancer is in remission but Lee now lacks the endurance for high-intensity training and hasn't played since a semifinal loss to Japan's current world No 1 Kento Momota at a tournament in Indonesia last July.
Today's Top News
Editor's picks
Most Viewed