Competitive devaluations cited as worldwide threat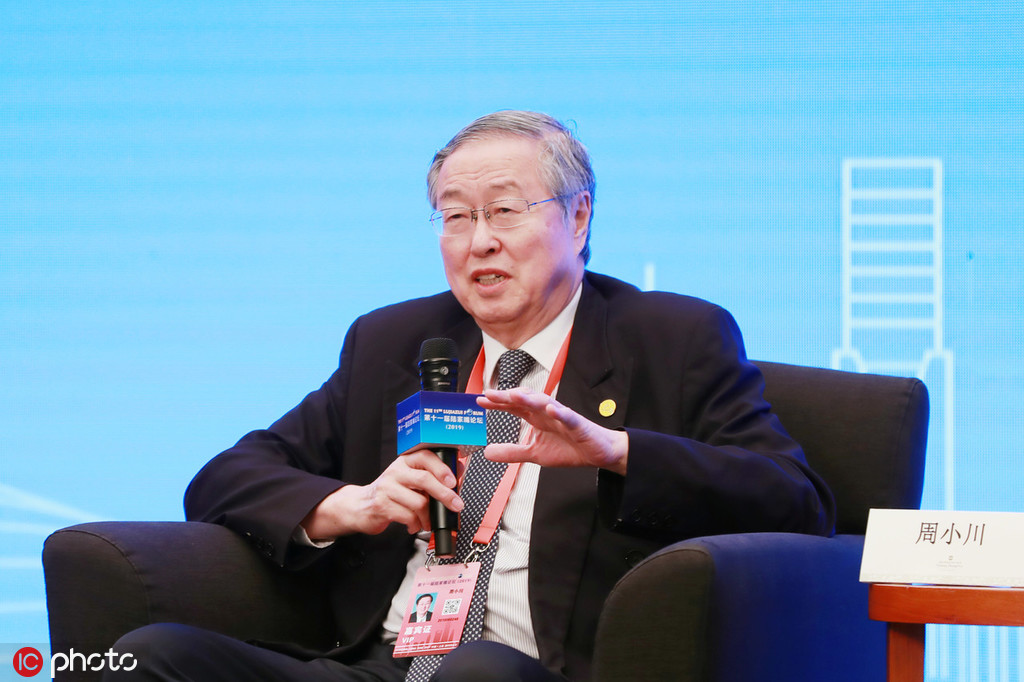 Efforts are needed to avoid a worldwide competitive devaluation of currencies triggered by trade frictions, said Zhou Xiaochuan, former governor of the People's Bank of China, speaking at the two-day Lujiazui Forum, which attracted government, business and academic leaders from home and abroad and ended on Friday in Shanghai.
Zhou said the nonprofit Financial Stability Board, which monitors and makes recommendations about the global financial system, should help avoid such a devaluation, thereby giving a more positive signal to the global financial market. The issue is timely given the approach of the G20 Osaka Summit on June 28 and 29, he said.
Zhou said trade problems will again trigger competitive devaluations, as in the last global financial crisis. He said fiscal and central bank regulators of different countries reached an earlier consensus to make joint efforts to avoid competitive devaluation.
"There is no winner if a trade war is waged. The world's exchange rates will confront fluctuations and the entire financial order will be chaotic if every country adopts competitive devaluation," he said.
Competitive devaluation is a series of sudden currency depreciations between two national currencies as a result of tit-for-tat moves to gain an edge in international export markets. In 2016, the International Monetary Fund asked its member countries "to refrain from all forms of protectionism and competitive devaluations".
Zhou further warned that every country's GDP will contract, though at different levels, if there is a trade war. In that case, economic regulators will adopt more active or expansionary fiscal and currency policies to address the side effects of an economic slowdown, he said.
But trade losses cannot be directly offset by adjusting macroeconomic policies, creating a global predicament, he said.
In the short term, countries should turn to fundamentally addressing trade tensions, such as putting the world trade order back on track via trade talks and World Trade Organization reform, he said.
For China, there should be more favorable export policies to find new markets and build new outlets to make up for the affected exports to the United States.
"China's exports are of good quality and reasonable prices. We have seen from the experience of the last financial crisis that Chinese exporters have enough flexibility and resilience. With policy incentives, Chinese exporters will find new markets within two or three years' time," he said.
Paul Romer, co-recipient of the 2018 Nobel Memorial Prize in Economic Sciences, said that there might be some short-term volatility from trade tensions, but China has always coped with large fluctuations well and is sure to do the same.
Vice-Premier Liu He said at forum's opening on Thursday that China's long-term positive economic growth will not be altered and there is still a huge amount of room for development in its macroeconomy. China has confidence to face any challenges, he said.