US beat China 3-0 at women's volleyball Nations League
Share - WeChat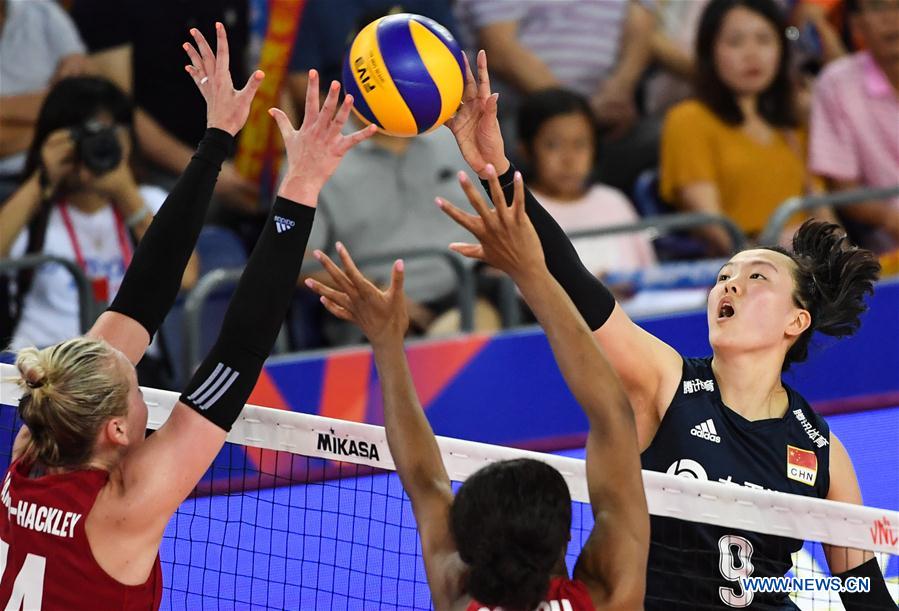 JIANGMEN, South China - The US stunned China in straight sets at FIVB women's volleyball Nations League here on Thursday, ending the hosts' nine-game winning streak.
Kelsey Robinson and Michelle Bartsch-Hackley scored 20 points each for the US. Zhu Ting scored 13 points for China.
"Our opponents played a great match and they deserved the win," China's coach Lang Ping said after the match.
"They had a very high percentage in their attacking and we could do very little to stop them," she added.
The US started the match strongly with a 4-0 run. Bartsch-Hackley contributed nine points to gift the Americans a 25-17 win in the first set.
China bounced back in the second set and led 9-8 after the technical timeout. But Robinson stood out to score with her powerful spike, helping the US lead the set 24-20. The Americans converted the third set point to win it 25-22.
The third set was intense and the score seesawed to 19-19. Bartsch-Hackley and Robinson once again stood out to score, lifting the Americans to a 21-19 lead. The US held their advantage to a 24-21 lead before finishing with a block.
"We had a great respect for Team China, and for their great coaching staff and great players, it is a great match and we are getting ready for next week," US coach Kiraly Karch said.
"It is a good opportunity for us to learn from our opponents, hopefully we could make improvements through matches like today," Lang said.
Turkey came back from two sets down to beat Poland 3-2 (22-25, 18-25, 25-16, 25-20, 15-12) in an earlier match.