Hellobike turns to smart solutions
Share - WeChat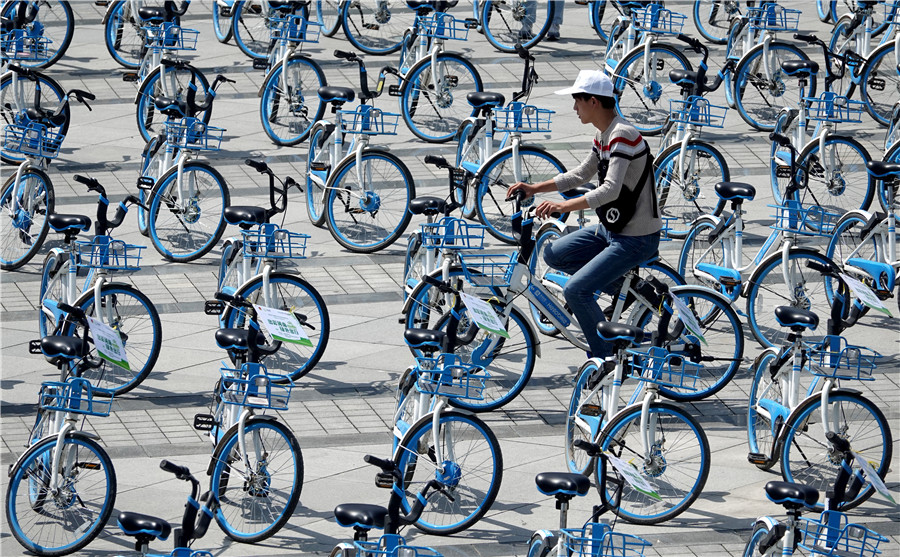 Bike-sharing firm to use experiences in lower-tier cities for bigger share of urban market
Hellobike, the bike-sharing app backed by financial technology behemoth Ant Financial, has entered into several partnerships with high-profile suppliers to make its two-wheelers more appealing to the hundreds of millions of riders in China.
The Shanghai-based startup said it will cooperate with five industry players including telecom carrier China Mobile and German chemical conglomerate BASF Group to optimize the design, production, operation and maintenance of its shared bikes and e-bikes.
Executive President Li Kaizhu said such tie-ins aim to "provide users with one-stop intelligent transportation services and build a brand-new industry ecology" for a company whose signature blue and white fleet has performed some 12 billion trips in the last 30 months.
Hellobike has cooperated with China Mobile on internet of things (IoT) technologies so the bikes can be tracked in real time and managed through remote control. Sound IoT structures can allow bikes to self-report any malfunction and upgrade their whereabouts to the cloud powered by big data analysis.
Ideally this can only be achieved through big bandwidth and low latency provided by the fifth generation of telecommunications, said Cheng Liang, general manager of Hellobike Supply Management Center.
"5G allows faster upload speeds and better accuracy so bikes can double as a smart device that can communicate with other vehicles and even transportation lights," Cheng said.
"With the advent of the industrial internet, the entire supply chain from manufacturing to operation is interconnected. Previous manual efforts like locating a damaged fleet can now be achieved automatically," Cheng said.
BASF will provide basic and advanced materials including engineering plastics used on bike bodies, as well as rubber that enhances resilience of the tires and improves the bikes' suspension performance.
Cheng said there is a high likelihood that partners will tailor technologies and customize product offerings to Hellobike's needs by "showcasing the best industrial capabilities".
Li Fengmei, vice-president of Chinese leading lithium battery maker BAK Battery, said the company will provide the electric drive system for three generations of Hellobike's e-bikes. He added that the two partners will cooperate in the future through new projects, joint research, product testing and certification processes.
He Jinshi, chairman of Hengdian Group DMEGC Magnetics, which sells hard ferrite magnets and ferrite cores in China, said it will join forces with Hellobike to promote the intelligent research and development of motors and other related products.
A relative latecomer to the crowded bike-sharing market, Hellobike has survived a shakeout that saw rivals such as Xiaoming Bike and Kuqi Bike file for bankruptcy. By April, it has become the most active bike-sharing application, leading Mobike and Ofo, consultancy Talking Data said.
As bigger rivals compete for a foothold in primary locations across Beijing and Shanghai, Hellobike has had a head start by deploying in the once untapped second- and third-tier cities. Now about 72 percent of China's bike-sharing users are from China's second-and lower-tier cities, consultancy Trustdata said.
Cheng said from this year, the company is looking to leverage the experience and strengths operating in second-and third-tier cities to fight for a slice of market share in bigger cities and even smaller townships. For instance, it won the bid to deploy 120,000 bikes in Guangzhou in June.
"China's bike-sharing industry now enters a new stage of integration. Bike rental firms need to expand their business in an orderly way, improve the way bikes operate and increase their profitability," said Raymond Wang, a partner at Roland Berger China.
Hellobike's ambition doesn't stop at two-wheelers. Last September, it rebranded its Chinese name to HelloTransTech to signify an extension into other transportation means like ride-hailing and carpooling.