In the name of art, sculptures explore history of Chinese nomenclature
Share - WeChat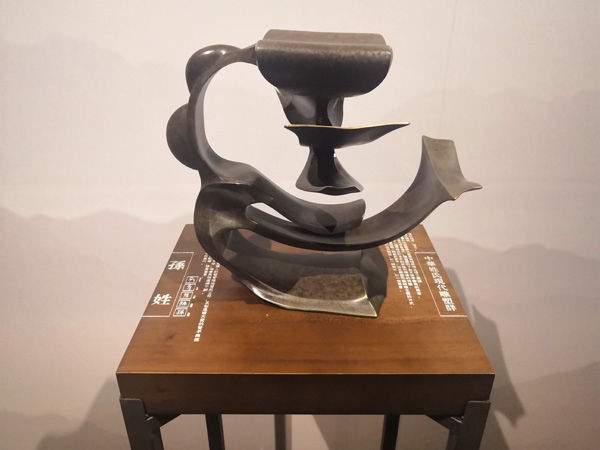 When two Chinese people meet each other and exchange names, they will naturally feel closer if they find they share a common family name. It shows the cultural connotation behind family names in China.
A sculpture exhibition of Chinese family names, which opened on May 18, and will run through July 21, helps to introduce the culture of Chinese families in Beijing's Overseas Chinese History Museum of China.
Bronze sculptures of 101 Chinese family names that are mostly used in China are on display. The sculptures are designed by sculptor Li Tinggui on the basis of some prehistoric characters. They contain some features of the oldest character forms found on animal bones and tortoise shells, known as oracle bone inscriptions, and another ancient Chinese character, usually used as a bronze inscription.
"Family names are public cultural symbols, and they can be seen as living fossils which are passed down from ancient times," Li says.
According to Yuan Yida, an expert who studies Chinese family names at the Chinese Academy of Sciences, 21 percent of the Chinese population share the three most commonly used family names-Wang, Li and Zhang, while about 42 percent share 10 common family names and about 84 percent share 100 family names. Those numbers have not changed much over the past 1,000 years.
"It means the inheritance of Chinese family names has some historical rules. The 101 names chosen to be exhibited this time are shared by over 85 percent of Chinese people," says Yuan.
Li introduces a sculpture of Xi as a family name. "In ancient times, according to the oracle bones, Xi was written as a combination of two wings and a sun, and the sculpture is designed to show such combination."
As well as the sculptures on display, viewers can see the development of the character and its origin and history as a family name on the wooden table that holds the sculpture.
Most Popular