Bourses to weather trade storm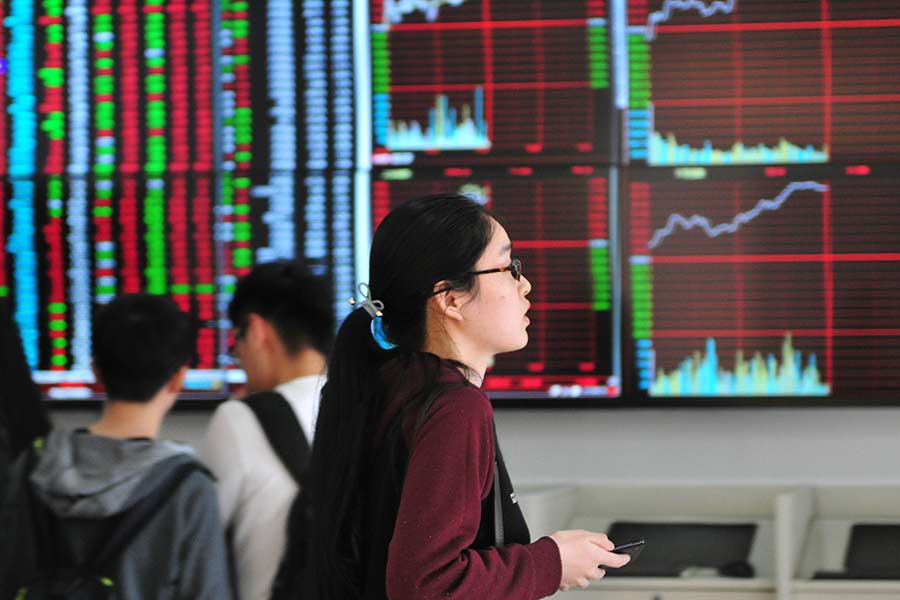 A-share market stabilizes as capital market reform and opening-up bears fruit, say experts
China's A-share market has become more resilient as capital market reform and opening-up bears fruit and the stocks are resilient enough to deal with external uncertainties, regulators and market experts said.
Sino-US trade frictions did have an impact on China's capital markets, but the impact has been generally controllable, Yi Huiman, chairman of the China Securities Regulatory Commission, said.
"We have prepared a rich toolbox (to deal with potential major external risks), so we are fully capable and confident to ensure the steady development of the capital market," Yi said in an interview with China Central Television and Xinhua News Agency.
The capital market has gradually absorbed and priced in the impact of trade frictions, showing the market is becoming more resilient and able to cope with risks, Yi said.
The interview was broadcast nationwide on Sunday in Xinwen Lianbo, CCTV's flagship news program.
This marks the fifth time the State-run daily news show has covered the A-share market this year, which was rare in its history and showed that regulators have attached increasing importance to the capital market, analysts said.
Yi's remarks were aimed at shoring up market confidence after Chinese stocks ended lower in May due to an escalation in Sino-US trade friction, said Wang Maobin, investment department chair at the University of International Business and Economics in Beijing.
The benchmark Shanghai Composite Index shed 5.84 percent to finish at 2898.70 points by the end of May, while stocks on Wall Street were hit sharply, with the S&P 500 losing 6.58 percent over the month to close at 2752.06 points.
Despite the losses, China's A-share market remained "rather stable" without a continuous and significant downtrend in May, showing signs it has been fairly rational and more resilient compared with its performance a year ago, Wang said.
In June last year, the US announced the first batch of tariffs on Chinese goods worth $50 billion, triggering an 8.01-percent loss in the Shanghai index. The S&P 500, though, even edged up 0.48 percent over the same period.
"The market has been gradually attuned to to-ing and fro-ing in trade tensions," Wang said, adding that stamp duty cuts and policies to facilitate the refinancing of listed firms may be among the policy tools to deal with potential worse-case scenarios.
Dong Dengxin, director of the Finance and Securities Institute at Wuhan University of Science and Technology, said the latent strength of the A-share market has improved as capital market opening-up bears fruit, with more foreign investors participating in Chinese equities and diversifying the investor base.
Meanwhile, the upcoming science and technology innovation board is set to make the A-share market more inclusive to new economy enterprises, which would in turn bolster the market's resilience, Dong added.
The reform of establishing the S&T innovation board and experimenting with the registration system has headed into the home stretch, said Yi, adding the board's basic institutional framework is largely completed and more than 100 enterprises have filed applications to list their shares.
Sino-US trade tensions will not influence China's progress in opening up the capital market and the financial industry, Yi said, while saying the CSRC will ensure that foreign ownership caps of securities and futures companies will be totally lifted as planned by 2021.
Yi said the A-share market has the foundation to develop steadily because of capital market reform and opening-up, the historically low valuation of its companies and controllable risks associated with leveraging investment.
The amount of leveraged funds has dropped to about 1.2 trillion yuan ($173.7 billion) at present, 80 percent down from the peak in 2015, the official said.
Chinese stocks closed lower on Monday, with the Shanghai Composite Index down 0.30 percent at 2890.08 points, while the smaller Shenzhen Component Index fell 0.74 percent to conclude at 8856.99 points.