Eat beat
Global food voyage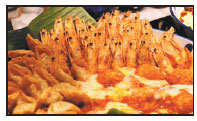 All-day dining restaurant N'joy launches a food discovery map, leading diners to follow Chinese navigator Zheng He (1371-1435) on a food voyage to discover the world.
The team of international chefs deliver a la carte standards, even though it's a buffet restaurant. There are several hidden delicacies that need to be discovered, from Chinese noodles and Indian tandoori, to Korean barbecued meat and buffalo mozzarella from Mediterranean.
No 2A, Jiangtai Road, Chaoyang district, Beijing; 010-5926-8281
A berry nice treat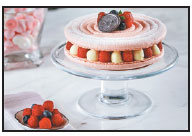 As the recently appointed executive pastry chef at Rosewood Beijing, Thomas Cabrit delivers newly designed cakes and a strawberry afternoon tea for the Bistrot B Lounge Bar.
The Napoleon Cake will delight as the caramel and the vanilla cream melt in mouth, juxtaposed by the crisp layer of pastry.
The strawberry afternoon tea employs the classic summer fruit in each dish, both savory or sweet, such as the foie gras terrine eclair with strawberry jelly and pistachio or the strawberry roll with white chocolate. The signature ingredients, for the most part, are nationally sourced from China's strawberry growing capital, Dandong, Liaoning province.
Jingguang Center, Hujialou, Chaoyang district, Beijing; 010-6536-0066