At the intersection between art and science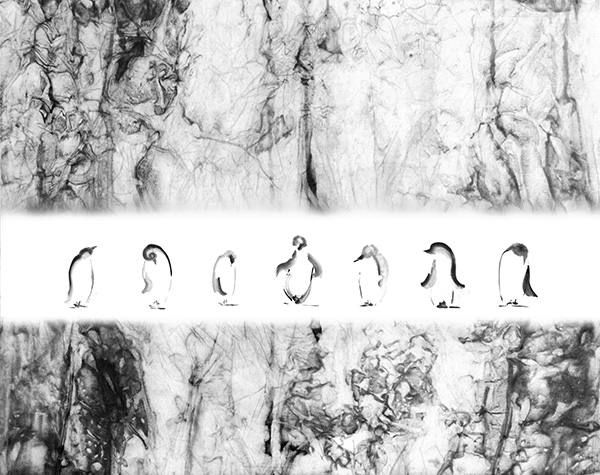 "They praised the artworks as paintings with a soul that seemed to have brought them back to the Antarctic. It had never occurred to me that my art could have such a power," Wang says.
Wang's works often contain Chinese elements. For example, an iceberg could be painted to resemble shan, the Chinese character for mountain. But to make his work universal, he also uses English letters such as "p" and "b" to create illustrations of polar bears.
"By placing our traditional art in a global landscape, I hope to spread our own culture while at the same time airing to the world our positive voice in polar region preservation," he says.
As one of the few artists devoted to the field of science, Wang proactively participates in scientific activities and exhibits his artworks. In 2018, he was honored with the title "Ambassador Artist of the Polar Region" by the Polar Research Institute of China.
"While scientists tend to explain problems through rigorous reasoning, artists are able to visualize their thoughts through artistic expression to make people realize the severity of problems," he says.
"I hope more artists will join us using a variety of art forms and perspectives to help Chinese culture go global. The key lies in originality."
Apart from his works on polar regions, Wang has also created a series of paintings on the Olympics, the 2010 Shanghai Expo, Buddhism and architecture. To him, a masterpiece is a work that allows people to form their own interpretations. As such, he always makes it a point to leave some space for the imagination in his artworks.
Wang says that his experience as an urban designer in Shanghai's Lujiazui area has helped him to cultivate his spatial imagination. But it was his visit to the University of Maryland in 1998 as a visiting scholar that sparked his love for art.
During one Chinese calligraphy lesson that he was asked to conduct, he discovered that the US students found it difficult to understand the art form and paint the character wu, which means "dance". A week later, he brought a painting of a ballet dancer that showed the Chinese character and students immediately grasped the essence of calligraphy.
After this incident, Wang quit his job as a designer to focus on his art.
"Sometimes, a new way of expression is needed to spread our culture more effectively. Art should keep pace with the times instead of clinging onto old traditions," he notes.
Tang Xiaofan contributed to this story.