Cainiao banking on cutting-edge tech for breakthroughs in logistics
Share - WeChat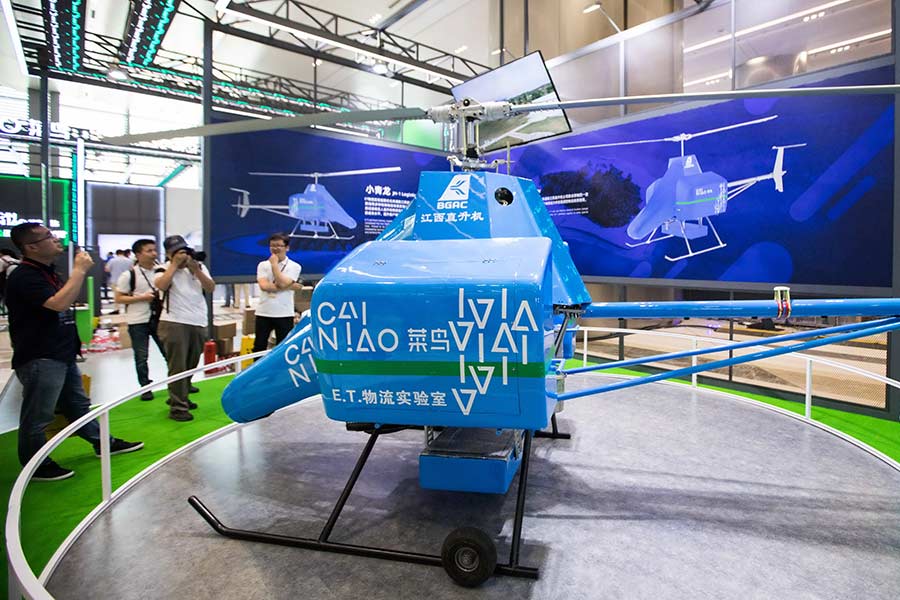 From robotic arms to unmanned drones, China is rewriting the rules of its multi-trillion-yuan logistics industry through digital makeovers.
Cainiao Network Technology, the nation's top courier aggregator, has pledged to create 50 billion yuan ($7.24 billion) in value for the country's logistics industry over the next three years, banking on technologies from the internet of things to artificial intelligence.
Speaking at the 2019 Global Smart Logistics Summit in Hangzhou, Cainiao President Wan Lin said the company aims to connect 100 million smart devices with partnering couriers to digitalize and accelerate the entire delivery process.
Two central planks serving such goals include the setup of 100,000 pickup stations dubbed "Cainiao Post", and the construction of residential-area network nationwide over the same period of time.
Such facilities can double as new access points for merchants to tap into prospective customers, given that 300 to 500 people are estimated to come to pick up parcels on a daily basis, Wan said.
In tandem with express delivery partners, Cainiao is also looking to offer 1 billion new shipments per year through Cainiao Guoguo, an app that can send and track parcels. Thanks to big data analysis to allocate resources, couriers are expected to pick up parcels in an hour on average.
Among the 50 billion parcels handled in China last year, some 30 billion used Cainiao's e-shipping label, which saves energy and provides simultaneous tracking functions, said Daniel Zhang, CEO of Alibaba Group Holding Ltd, Cainiao's parent.
"The sector is moving from pure digital-driven to intelligent-driven," Zhang said. He also pointed to the possibility of using emerging gadgets to revolutionize the delivery process.
A video displayed during the event showed the digital replication of a manually-operated warehouse. Operators can enter the simulation made possible by the IoT and AI using a simple personal digital assistant device.
Sensing the signals of the PDA chip through Near Field Communication, digital commands are sent to different parts of the warehouse. Acousto-optoelectronic technology enables the auto scanning of the goods during a smart selection process.
Apart from enhanced coordination among various partners along the industrial chain, information technologies remain the key to improving logistics efficiency, said Gao Hongfeng, president of China Express Association.
"For instance, among the 14 million trucks engaged in logistics transportation each year in China, the average empty-loaded rate hit 40 percent, which is a huge waste (of social resources)," he said.
Yang Lingjiang, chairman of 1919 Wine& Spirits Platform Technology Co Ltd, said algorithms can predict sales based on data analysis and stock goods in pre-allocated warehouses. Such technologies have effectively shortened the delivery of beer from two to three days to a minimum of 19 minutes, he noted.
Cainiao's logistics might be conducive to foreign businesses entering the Chinese market. A holistic approach from airfreight booking to omnichannel sales has helped United States-based skincare company EltaMD transport 20 to 30 metric tons of goods per week, said general manager Lawrence Paul Macphee.