Along for the bumpy ride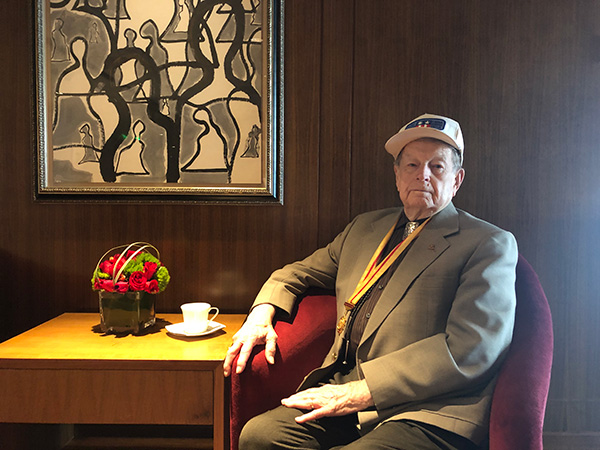 Bonds forged during World War II should not be underestimated, says US pilot who flew supplies into China over the Himalayas, Xing Yi reports.
Hail hit the windshield of the cockpit. Strong winds shook the entire plane to its core. One minute the aircraft rocketed upward, the next, it plummeted.
It was a thunderstorm. Jay Vinyard soon knew what the plane had flown into, but it was too late. For the next 20 minutes, the airplane became a roller coaster.
"I had a hard time holding the aircraft the right side up," recalls Vinyard, 97, who was the pilot of a C-46 Commando transport aircraft in 1945.
The updraft threw the plane to height, of over 7,000 meters, and the downdraft sucked it under 4,500 meters, an altitude below the mountain tops of the Himalayas, where the plane was flying over.
"I was afraid that the wings would fail, because the change (in altitude) was very abrupt, and very, very bad," says Vinyard.
"I just concentrated on keeping the wings level, and took the ups and downs as they came, because I knew somewhere out there, I'd fly out of it."
The young American pilot from Arkansas did make it through the rough weather that day, and survived a tough war serving in China from July 1944 through the end of the war in 1945.
The veteran was visiting Guilin, Guangxi Zhuang autonomous region, for a series of activities held by the Chinese People's Association for Friendship with Foreign Countries and the local government over April 23-27.
The events were marking the 40th anniversary of China-US diplomatic ties by honoring the memory of the American pilots who helped the Chinese fight against Japanese invasion forces during World War II.
Vinyard was one of around 4,400 American pilots who flew military supplies to China for the struggle against the Japanese troops.