Qingdao debuts high-speed maglev train prototype
By Zhong Nan in Beijing and Xie Chuanjiao in Qingdao | chinadaily.com.cn | Updated: 2019-05-23 16:08




Share - WeChat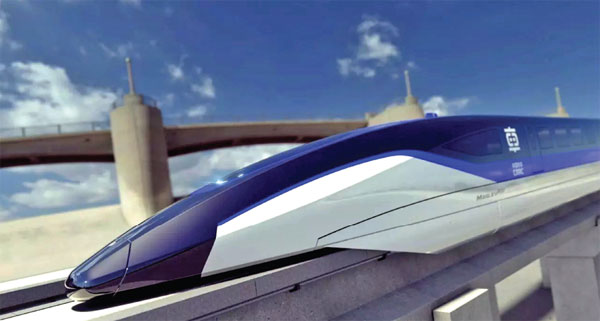 China rolled off the production line a prototype magnetic-levitation train with a designed maximum speed of 600 kilometers per hour in Qingdao on Thursday, filling the gap in travel speed between aviation and high-speed rail passenger transport in the country, according to its manufacturer.
Launched in July 2016, the train is designed and manufactured in CRRC Qingdao Sifang Co Ltd in the eastern coastal city of Qingdao, Shandong province. The company is a wholly owned subsidiary of Beijing-headquartered China Railway Rolling Stock Corp, the largest rolling stock manufacturer in the world.
The debut of the country's first high-speed maglev train testing prototype marks a major breakthrough for the nation in the high-speed maglev transit system.
Ding Sansan, head of the train's research and development team and deputy chief engineer of CRRC Qingdao Sifang, said the testing prototype can check and optimize the key technologies and core system components of the high-speed maglev system and lay a technological basis for the forthcoming engineering prototype.
The engineering prototype is planned to roll off the production line in 2020 and go through comprehensive tests to conclude integrated verification in 2021.
The high-speed maglev transportation system is one of the key projects under the Ministry of Science and Technology's 13th Five-Year Plan (2016-20) to promote an advanced rail transit system.