Shanxi resident turns deserted area into green zone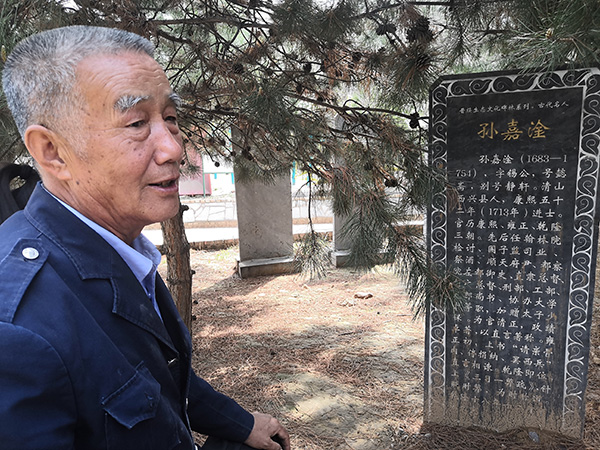 In Xingxian county in Lyuliang city, Shanxi province, you can see the loess plateau with few trees. But walking in Songjiagou, an area with hills and a gully, you can see green trees on every side.
Gao Huachu, 70, who rented the deserted area of over 320 hectares in 2001 after retiring from the county's forestry bureau, started to plant the trees there.
"When I retired, I thought I still could do some more things. Starting a business required much money, and I didn't have that. Therefore, I decided to do something I was familiar with," says Gao.
"When I worked in the forestry bureau, I noticed trees were planted in many places, but they often died soon. I wanted to see if I could successfully plant trees based on my experience as a farmer."
Gao says the work didn't require much money, but it needed a lot of labor. So, he spent 20,000 yuan ($2,900) to lease the gully for 50 years and started to plant trees there. At first, he did it by himself. Since his home was far from the gully, he pitched a tent and lived there. In order to level the land in 2003, he had to sell his house and the gifts he had prepared for his son's wedding.
"We all thought he was crazy. Spending money for the gully seemed like throwing money in a bottomless pit that could never be filled. The family didn't support him then, but he insisted," says Gao's wife, Liu Laoshang.
Gao then recruited some residents living in poverty and people with disabilities to help him. Over years of hard work, they finally turned the once-deserted gully into a "green zone". They have planted Chinese pines, oriental arborvitae, poplars, willows and many other plants there. He earns money by selling saplings and then distributes the money among the people who work with him.
"Last year, I sold over 300 Chinese pines for 950 yuan each. And altogether I have over 10,000 Chinese pines that are higher than 5 meters," he says.
Liu Baidan, a rural resident who works with Gao, says: "Gao took me by the hand to teach me how to plant trees."
Last year, the area was hit by a rare mudslide, and the loss of trees in the gully was estimated at about 5 million yuan.
An educational base for a local school named after the 120th division of the Eighth Route Army led by He Long that was stationed in Xingxian was established in the area, as was a grove of stone tablets to commemorate famous people in the county's history.
"No one would take care of the trees when I die, but if I add some cultural elements to the gully, it will be inherited by someone else and the trees will be protected as well," says Gao.
"We want to share knowledge about farming to students and let them experience the labor of it so they'll cherish what they eat and no longer waste," says Li Xiaolin, vice-president of the school.
Students can plant potatoes, soy beans, millet and other crops there. They learn how to use farm tools and till the soil.
The area also has many stone tablets, and around 360 more are planned, recording the lives of famous local people and their words. For example, visitors can see a stone tablet of Sun Jiagan, a politician who was born in Xingxian and is known for his integrity during the Qing Dynasty (1644-1911).
"I hope young people come to see the tablets. I believe the stories of our ancestors will inspire and educate them," Gao says. "So far, I have erected 88 stone tablets."
In 2017, Gao won the Touching Lyuliang Awards as a local role model.
"I like planting trees, and it makes my life more meaningful. I want to strive with my colleagues to change Songjiagou into an agricultural-demonstration area."