Meet the man who helped turn Matou Mountain green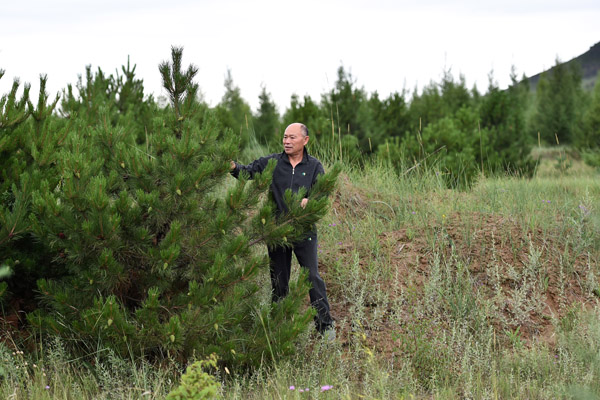 Once barren with over 70 percent of its land an arid desert, Youyu county of Shanxi province has been turned into a thriving oasis and the subject of oil paintings, thanks to seven decades of strenuous human effort.
In Youyu, many have devoted themselves to the cause of afforestation. Li Yunsheng, 63, is one of them. As of this year, Li has devoted 16 years of his life to planting trees and his beloved Matou Mountain.
The Matou Mountain is located in the northern part of Youyu county, reaching an altitude of 1,800 meters. On the mountain slope lies the Matoushan village, where Li Yunsheng was born and raised.
Discharged from military service with the railroad forces of the People's Liberation Army in 1984, Li took up work as a driver before establishing his own driving school. With a decent income, he lived an adequate life with his wife and three sons.
In 2002, due to the harsh conditions of the village-remote location, inconvenient transport and poor environment-the Youyu government arranged for the relocation of its entire population, which included around 20 households.
"Many farmers had moved out in advance. When they left, I found it hard to part with the village. So, I thought, maybe I could stay and improve the village's overall environment," Li says.
Out of this wish, Li contracted the 83 hectares of Matou Mountain, marking the beginning of his tree-planting journey. However, he never foresaw the complete alteration of his previous life.
He would go up to the mountains everyday before dawn and return home after sunset. If he got hungry or thirsty, he would eat a packed lunch and drink cold water.
"I didn't expect tree-planting to be so difficult," Li says. "Because of the drought and the sandstorms, the mountain was bare of any trees or even weeds. There was not even a single path on the mountain."