Food festival serves up Chengdu's finest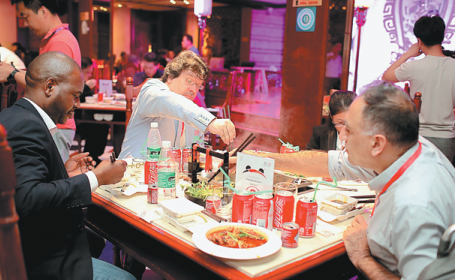 "Eating Sichuan cuisine in Chengdu reminds me of famous poets and poetry," he said. "The culture here has become immersed in the food."
Susumu Jimbo, a Japanese sushi expert and renowned musician, said as neighboring countries, Japan and China share many things in gastronomic culture and that the tour of Chengdu allowed him to learn more about Chinese tradition.
Chengdu is not just the home of the famous dishes of Sichuan cuisine, such as mapo tofu (stewed bean curd with minced pork in pepper sauce) and kung pao chicken, but also the first Asian city to be given the title of a city of gastronomy by the UNESCO.
Sichuan cuisine has become a bridge to promote dialogue and cultural communication in Asia and the rest of the world.
Former first lady of the United States Michelle Obama, former British prime minister David Cameron and German Chancellor Angela Merkel have all tasted Sichuan cuisine during visits to China.
Chengdu aims to become a world city of culture, and food will play a major role in that, according to the city's government.
According to their plan, Chengdu will become a global gastronomic communications center, a national gastronomic cultural exchange and innovation center, a standards setting center for Sichuan cuisine, and a gastronomic talent training center by 2020.