Hawkish rhetoric does not help narrow differences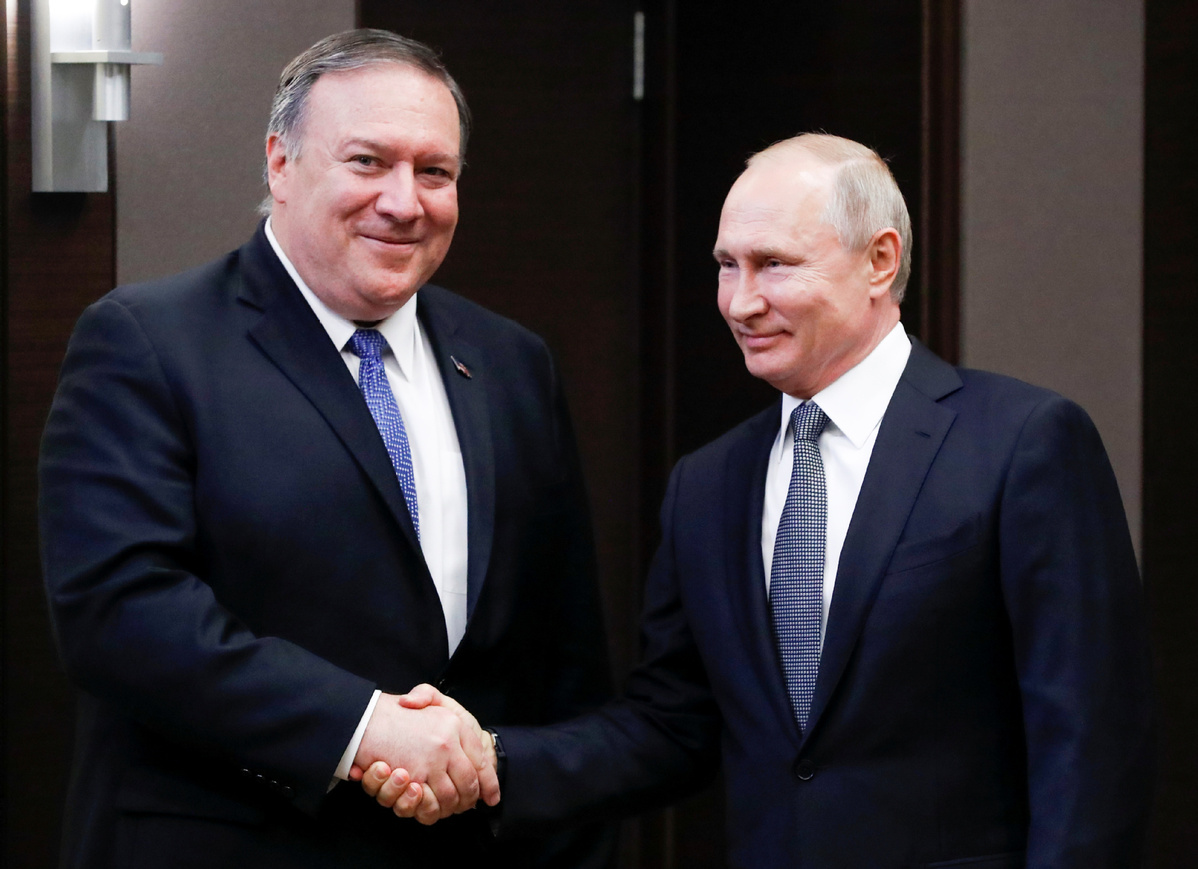 Diplomats are supposed to be able to speak softly, because hawkish rhetoric, especially against the host during an official visit, does not help narrow differences and maximize mutual interests.
Based on this, US Secretary of State Mike Pompeo did not do a decent job restoring relations with Russia.
Rather than elaborate on their "overlapping interests", Pompeo clung to a thorny issue that has long prevented bilateral relations from improving.
"Interference in American elections is unacceptable. If Russia engaged in that in 2020, it would put our relationship in an even worse place than it has been," he told his Russian host, Foreign Minister Sergei Lavrov, at a joint news conference during his visit to Sochi, Russia, on Tuesday.
Accusations of Russian meddling in the 2016 US presidential election have long been a major stumbling block toward better ties. Moscow has vehemently denied the allegations.
In repeating that claim, especially without any substantive supporting evidence, the top US diplomat refused to vindicate Russia in an effort to rebuild trust.
Election meddling isn't a welcome topic for the US leader either, given that his critics have often use it to imply he has been a beneficiary of the alleged Russian interference. Pompeo should have shown better judgement and not dwelled on the topic.
There are many areas that Washington and Moscow can cooperate with each other. "I would very much like your visit to Russia to benefit Russia-US relations and promote their development", as Russian President Vladimir Putin told Pompeo on Tuesday.
Cooperation both in Afghanistan and on counterterrorism are among their shared goals, along with maintaining the Korean Peninsula nuclear free. Pompeo should prioritize these issues rather than the far-fetched claim of election meddling.
But he doesn't seem likely to be able to accomplish much, let alone put US-Russian ties back on track, if he continues with his aggression.
During his visit to the United Kingdom last week, he angered many British by humiliating Prime Minister Theresa May, comparing her with Margaret Thatcher, whom he said would have snubbed Chinese telecom giant Huawei.
Maybe Pompeo should start by learning to be a good guest, before he becomes a good diplomat.
Most Viewed in 24 Hours
China Views