China beat Germany at Montreux Volley Masters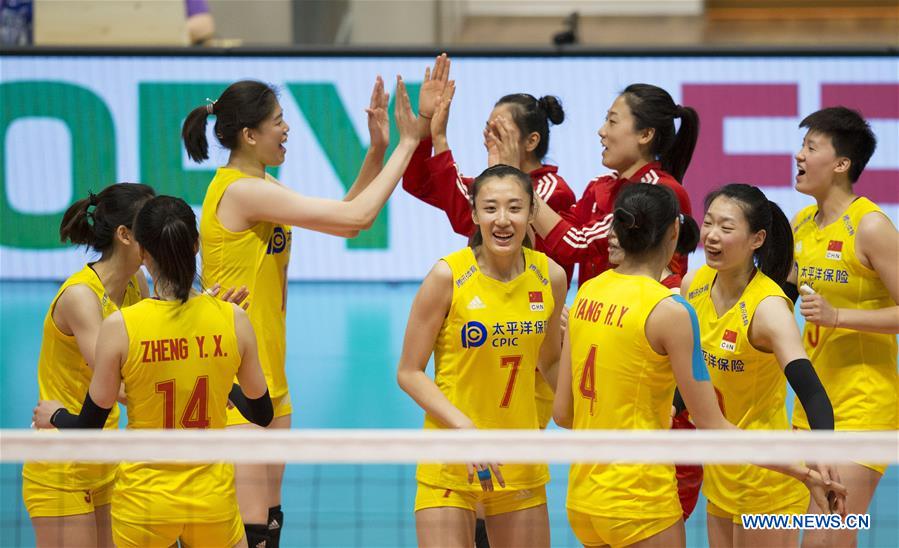 GENEVA - The Chinese national women's volleyball team bounced back from losing to Japan by defeating Germany 3-2 at the Montreux Volleyball Masters 2019 on Tuesday.
China is drawn in Pool A with Japan, Germany and Poland. The Rio Olympic Champions suffered a 3-1 defeat to Japan in the opener on Monday despite spiker Li Yingying's game-high 25 points.
China dominated the first two sets 25-21 and 25-9 and it seemed the Rio Olympic champions would have an easy victory.
However, Germany demonstrated their resistance, trailing from 21-15 in the third set to pull one back with 26-24. The German girls quickly rode the momentum and took another set with 25-22.
China held off the pressure in the fifth set and took five points in a row after 10-9 to seal the victory with a thunderous spike from Duan Fang.
With five players scoring double digits, China's young squad showcased their offensive power while Germany's Louisa Lippmann pocketed a game-high 29 points.
Elsewhere, Thailand had their second win in the tournament beating Switzerland 3-1 and Poland stunned Japan 3-1.
China will take on Poland on Wednesday when Italy face Turkey and Japan clash with Germany.
Most Popular
Highlights
What's Hot