Chinese liquor makers continue to make hay as demand diversifies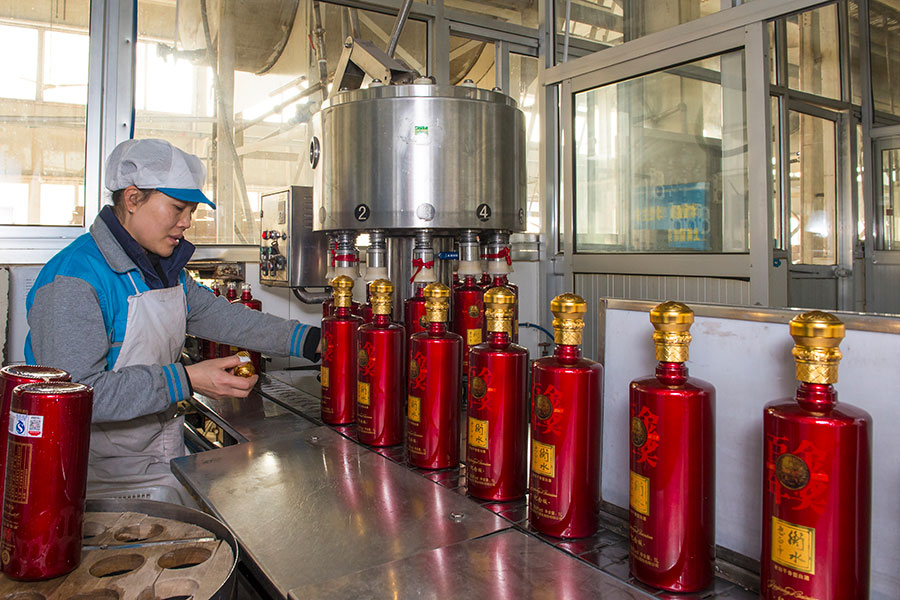 Liquor makers in China have enjoyed a fruitful year, and are now stepping into more upscale markets with increasing brand concentrations, encouraged by higher-end demand and more sophisticated tastes of Chinese consumers.
Hebei Hengshui Laobaigan Liquor Co Ltd, located in Hengshui, Hebei province, is known for producing laobaigan-flavored liquor. While it originally focused on a mid-level market, the company said as a baijiu distiller, it must continually upgrade its products.
With faster work and life pace, Chinese consumers are increasingly looking for healthier options. The company said it hopes to attract more young consumers, the future backbone of its clientele, and cater to their preferences.
"The Chinese liquor sector is showing a trend of high-quality growth. The laobaigan-flavor type won't make drinkers feel dizzy, it is an international type of flavor and more suitable for the taste of foreign consumers," said Wang Zhangang, general manager of Hebei Hengshui Laobaigan Liquor.
"We've been upgrading our product structures and putting more effort into higher-end products," he added. "Our premium Laobaigan 1915, which retails at 1,688 yuan ($246) per bottle, has seen booming sales, and we're confident in our growth potential."
Looking ahead, the Shanghai-listed company aims to achieve annual sales revenue of 10 billion yuan, and annual net profits of 2.5 billion yuan. In the first half of 2018, the firm gained sales revenue of 1.46 billion yuan, adding 31.78 percent year-on-year. During the period, its net profit reached 146 million yuan, surging 208 percent year-on-year, according to its earnings report.
"Hengshui Laobaigan Liquor faces a nearly saturated market in the province. It should embrace the opportunities emerging from the Beijing-Tianjin-Hebei cluster, and increase its attractiveness by closer connections with Beijing and Tianjin," said Yao Jingyuan, a researcher for the Counsellors' Office of the State Council.
Meanwhile, Wuliangye Yibin Co Ltd, a Sichuan province-based liquor maker, has been upgrading its product structure and continuing to invest in the high-end market, to cater to quality-conscious consumers.
Last year, Wuliangye's revenue hit 40 billion yuan, jumping 32.6 percent year-on-year. Its net profit reached 13.4 billion yuan, growing 38.36 percent year-on-year, according to its earnings report.
This year, the liquor sector is expected to continue growing. Middle-to-high-end products especially will see such growth, according to Jiushang.cn, a portal website for liquors.
With increasing demand from consumers and higher brand concentrations in the sector, the positions of major leading liquor makers will be further strengthened and consolidated, while it would become more challenging and difficult for smaller liquor makers, according to China Dragon Securities.