Gold rush needs 'greater effort'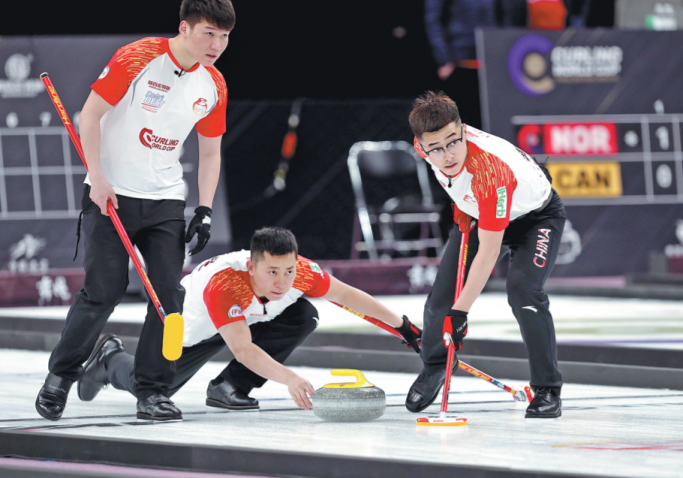 China's ice and snow athletes urged to improve ahead of 2022 Beijing Games
Despite a respectable haul of gold, China's performances over the past international winter sports season has been deemed "unsatisfying" by Gou Zhongwen, director of the General Administration of Sport of China, who is calling for greater efforts to be made ahead of the 2022 Winter Olympics.
China finished its 2018-19 winter sports season on a high note with a runner-up finish by the men's team at the Curling World Cup final in Beijing on Sunday, but the nation's sports governing body wants more progress to achieve success at the home Olympics.
"Some highlights were achieved in the past season on ice and snow, but the overall performance wasn't satisfying enough compared to the progress expected be made at this point to realize our high ambitions for 2022," said Gou, speaking at a Friday pep rally attended by 1,200 winter sports athletes, coaches and officials.
The rally was part of a celebration to mark the 1,000-day countdown to the 2022 Olympics, co-hosted by Beijing and Zhangjiakou in Hebei province.
A relative neophyte in most mainstream winter sports, China aims to qualify athletes in all 109 events in 2022 while bringing home its biggest ever haul of Winter Games gold.
The magnitude of the challenge was put in perspective by a series of lackluster performances at major international competitions over the past several months, including short-track speed skating (no gold), a medal drought at the speed skating worlds and the failure of a targeted group promotion in women's hockey.
Although outstanding individuals and teams such as world champion figure skating pair Han Cong and Sui Wenjing were recognized at the rally, Gou's blunt assessment set the tone.
"It's a pressing challenge where we don't have time on our side," said Gou. "We must stop feeling complacent about the small steps made so far.
"We must mobilize all possible resources and try to adopt some unconventional methods to prepare our teams in the next three years."
China achieved its best results at a Winter Olympics in 2010 at Vancouver, Canada, winning five golds in an 11-medal haul. At the 2018 Games in Pyeongchang, South Korea, it finished with nine medals but just one gold, claimed by Wu Dajing in men's 500m short-track speed skating.
With their short-track counterparts failing to deliver in the past season, figure skaters Han and Sui produced the only condolence on ice after claiming pairs gold at the world championships in Japan in March, following Sui's long recovering from a right foot injury.
"The strong comeback from injury proved our competency on the world stage and has boosted our confidence to spearhead the gold rush on ice for 2022," said Sui, who teamed with Han to win silver in Pyeongchang.
In skeleton, a sliding discipline dominated by Western pilots, two triumphs on the International Bobsled and Skeleton Federation's secondary circuit-won by former long jumpers Geng Wenqiang and Yan Wengang in November and January-added something worth cheering about.
The cross-sport talent development program, which brought Geng and Yan from track and field to the sliding track, also helped expand the talent pool in snowboarding and freestyle skiing by transforming gymnasts and martial artists into snow sports reserves.
Impressive performances by China's snowboarders, such as Gong Naiying's golden run in women's parallel slalom at the home World Cup in Zhangjiakou in February, and veteran half-pipe rider Cai Xuetong's fifth World Cup season title maintained momentum in the event after Liu Jiayu's historic silver medal run in halfpipe at the Pyeongchang Games.
Li Yang, manager of China's halfpipe squad, said the team won't stop dreaming big in the face of dominant foreign competitors.
"With the likes of Chloe Kim excelling in major international events, we will focus on fine-tuning our routines and trying to improve our consistency as long as we have a slim chance of winning in 2022," said Li.
Kim, an American rider of South Korean descent, beat Liu for gold in Pyeongchang.
To make next season count, Gou urged the winter sports teams to focus more on physical conditioning and specialized skill training while taking advantage of training with high-level opponents at overseas camps in Europe and North America.