Canada's Jung gets job done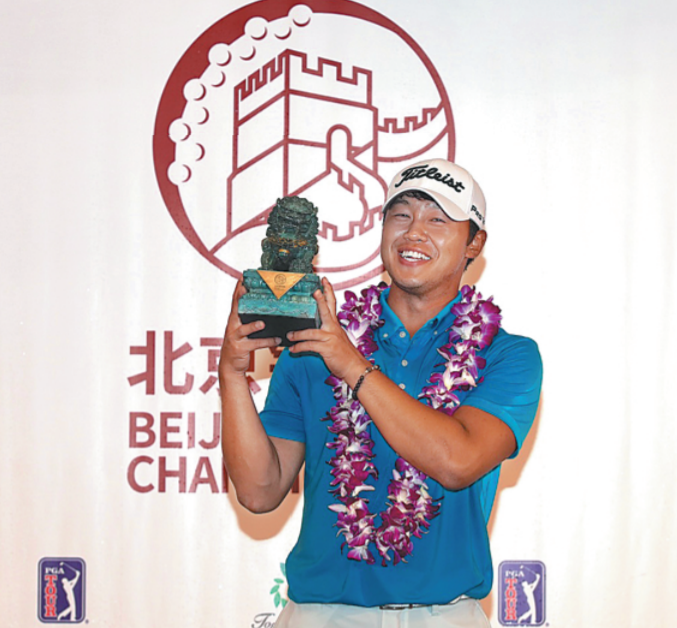 After a convincing victory at the PGA Tour Series-China Beijing Championship on the weekend, Canada's Richard Jung is excited to have a chance to improve on a solid 2018 that saw him miss out by one spot on a trip to the Web.com Tour qualifying tournament after he finished 11th on the order of merit.
"I feel amazing ... 19-under on any course is always a great score so I'm just really happy with that," the Korean-born Jung said on Sunday after recording just one bogey en route to a 4-under 68 and a two-shot victory over American Ryann Ree to secure his second PGA Tour Series-China title.
"Now I don't have to think so much about finishing in the top 10 on the order of merit. Hopefully I can just keep doing what I'm doing and continue to play some good golf."
Jung, 26, never let up after taking the final-round lead with a birdie on No 4, picking up four more birdies and one bogey to finish at 272 at Topwin Golf and Country Club.
His victory kept the title in Canada's hands after Peter Campbell won the event in 2018.
Max McGreevy, who started the day tied with Jung atop the leaderboard, earned his third top-five in four tour events after carding a 71 to finish tied for third at 16-under, along with Chiehpo Lee of Chinese Taipei.
Jung was steady all day, starting with three straight pars before finding his rhythm. In addition to his birdie on the fourth, he drained sub-par putts on 6, 10, 12 and 15.
"The 15th was crucial. I hit it way left, and if I hadn't found that ball it would have been a different story," said Jung.
"I was under a tree but somehow still made birdie. I had 30 yards to the pin and was able to hit a really good shot and then roll in the putt."
Jung was thrilled with how he held onto the lead to earn his first tour title since the Suzhou Open last August.
"I tried to not think about what the other guys were doing. If they play great, it's not my day. But I really didn't want to make mistakes and give away the win," said Jung.
"I'm just really happy with how I played, especially down the stretch. I made some clutch putts and was able to roll the rock, which was great"
Ree, who finished 26th on last year's order of merit, was disappointed not to get the win but the graduate of San Diego State University is already looking forward to the upcoming tournaments.
"I didn't play as well today as the last three days, but in the end I'm pretty happy with how I finished. I birdied three in a row coming in so I can't be too disappointed," said Ree, who like Jung has Korean parents.
"There are a few more events before we take a break, so hopefully I can get the job done soon."
China's Zhang Huilin had a disappointing final day. Poised to make a run at his third career title, Zhang played the front nine in 1-over, then dropped from contention with a pair of bogeys on the back nine.
He finished at 2-over 74, tying for ninth overall with compatriot Luo Xuewen at 11-under.
Most Popular
Highlights
What's Hot