First round of flight tests at airport done
Share - WeChat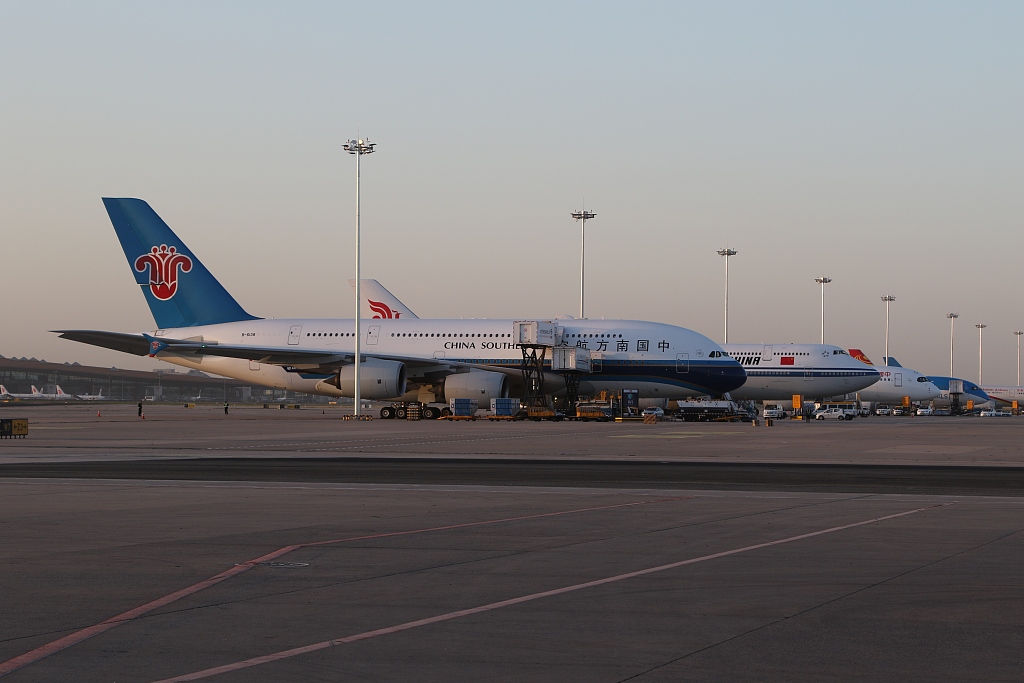 Several large aircraft give four runways at new facility a thorough shakedown
Four large passenger planes completed flight trials at Beijing's new airport on Monday morning, marking a significant step toward commercial operations that are scheduled to start on Sept 30.
At 9:03 am, an A380 from China Southern Airlines made the first flight, taking off from Beijing Capital International Airport in the city's northeast. At 9:30 am, the plane landed smoothly on the western runway at Beijing Daxing International Airport.
A Boeing 787-9 from Xiamen Airlines finished the last of the four flights, touching down at the new airport at around 9:46 am.
A Boeing 747-8 from Air China and an Airbus 350-900 from China Eastern Airlines were also tested.
Hou Dandong, captain of the China Eastern Airlines test flight, said the airline had selected four experienced captains who had notched a total of almost 70,000 flight hours.
"It is the first time in China that test flights have been conducted on four runways. The whole process went smoothly, and I am very proud to be part of the process," Hou said.
The test flights involved four different types of large two-aisle aircraft and covered four runways to fully verify the capabilities of Beijing Daxing International Airport, according to a news release from the airport.
The successful test flights mean that Beijing Daxing International Airport can guarantee the safe operation of all kinds of current passenger planes. They also mark the moment that the new airport turns its focus from construction to operational preparations.
With Monday's basic test flights completed, the new airport will con-duct a special test flight in August to try out a technology that enables it to handle takeoffs in low visibility. If successful, the technology will make Daxing airport's low-visibility operations the most sophisticated in the world, and reduce the impact of fog and smog on flights leaving the airport, according to the news release.
Also, comprehensive test flights will be carried out in August and September to ensure that the airport can operate in a coordinated, smooth and efficient manner after it goes live.
Flight inspections were completed at the new airport on Feb 24, covering the airport's runways, landing systems, lighting facilities and other services.
The four runways, three running parallel and one crossing over them, can significantly improve the efficiency of aircraft departures and reduce carbon dioxide emissions by 58,800 metric tons annually.
The two western runways are entirely illuminated by LED lights, the first time such lights have been used at a domestic airport to save energy.
Beijing Daxing International Airport is scheduled for completion on June 30 and set to open on Sept 30. So far, more than 50 airlines have shown interest in operating flights there.