Mixed culture
Share - WeChat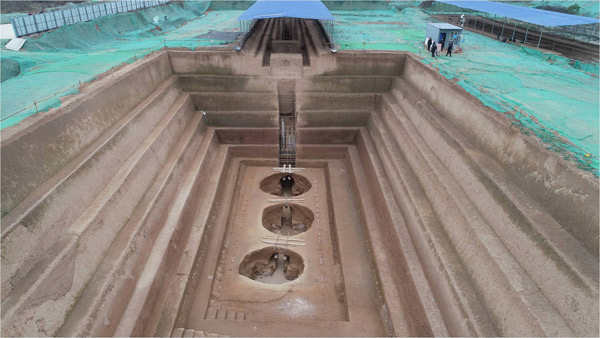 An unearthed Sixteen Kingdoms gravesite shows links from the period to present-day Xi'an, Wang Kaihao reports.
In the fourth century AD, when the Roman Empire was suffering from turmoil, imperial China had its own share of chaos.
From 304 to 439, dozens of states established by various ethnic groups existed all across the north and southwest of China and fought one another, while the southeast was relatively stable under the Eastern Jin Dynasty (317-420) of Han rulers. Some of these short-lived states emerged as regional powers, during a time known as the Sixteen Kingdoms period.
Most relics from that time were destroyed in wars later. Some states remained only in historical records without any archaeological findings.
In Xi'an, Shaanxi province, a large gravesite from the Sixteen States period was recently unearthed. It will probably provide crucial evidence to study that gloomy page of history.
"So far, this is the biggest and highest-level graveyard found from the Sixteen Kingdoms period," Xin Long, an archaeologist from the Xi'an Academy of Cultural Heritage Preservation and Archaeology, told media in Beijing last week.
The excavation started in January 2018 after the site was accidentally found during the construction of a new residential compound on the southern outskirts of Xi'an. The first phase of fieldwork was completed in April.
Two main tombs were found at the site. The bigger one, 18.5 meters underground, has a 60-meter-long passage leading to three coffin chambers, while the tomb passage of the smaller one is 54 meters long.
Most Popular