Merseyside miracle bewilders and beguiles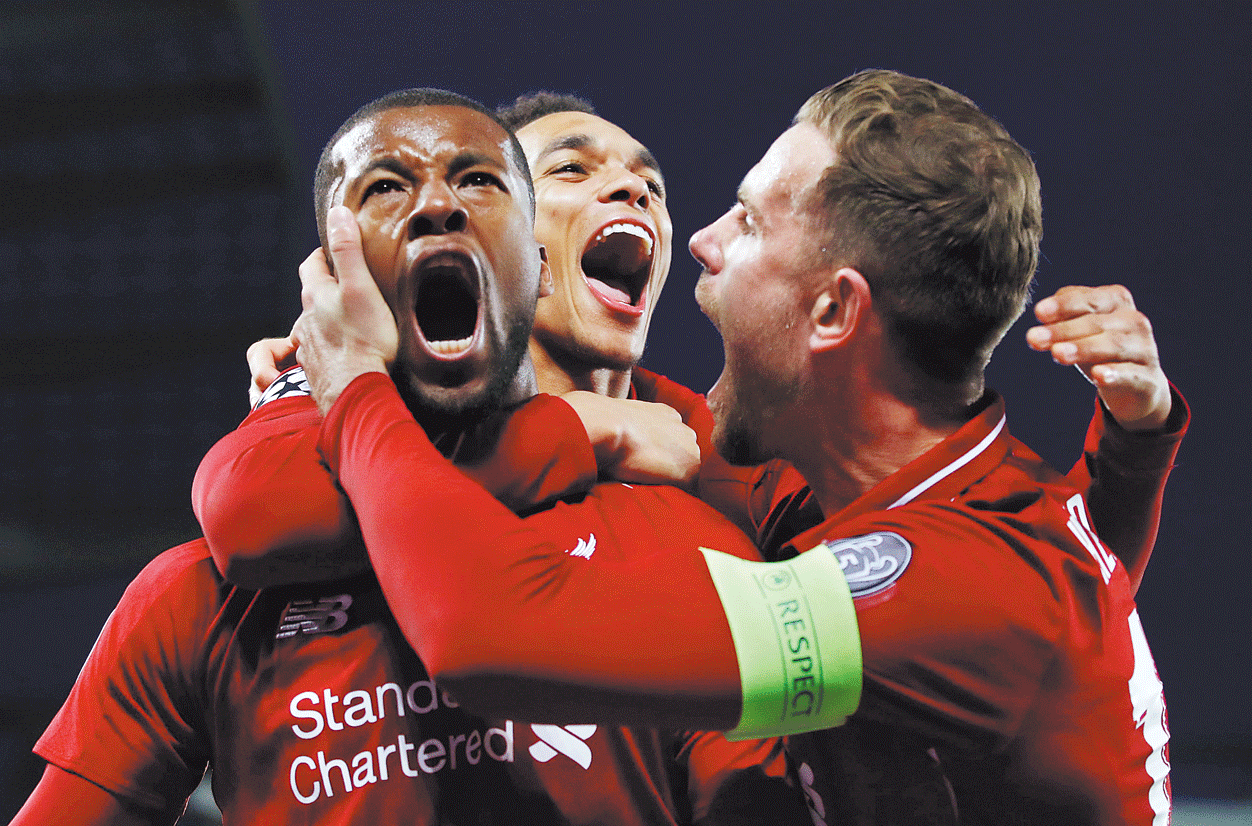 Jurgen Klopp swore, James Milner cried and Luis Suarez was left tearing his hair out after they and the rest of the soccer world struggled to process a mind-blowing night that will go down as one of the greatest comebacks the game has ever witnessed.
Trailing 3-0 from the first leg of this Champions League semifinal, Liverpool hauled itself back from the brink with a display of guile, guts and gusto to win 4-0 on Tuesday and send a disbelieving and distraught Barcelona crashing out.
The magical scenes at Anfield rekindled memories of Liverpool's 2005 Champions League final win over AC Milan, when the English side battled back from 3-0 down to lift the trophy. That was dubbed the 'Miracle of Istanbul'. This was the 'Miracle of Merseyside'.
The intoxicating night left Liverpool's German manager Klopp dropping F-bombs as he struggled to find the right superlatives to describe what had happened.
"It's 10 past 10, most of your children are probably in bed but these boys are f****** talented giants. It's unbelievable," he told BT Sport.
"Fine me (for swearing) if you want. I'm not a native, so I don't have better words for it.
"The whole game. The whole performance was too much. It was overwhelming. I watched in my life so many football games but I can't remember many like this.
"Winning is already difficult but winning with a clean sheet? We played against maybe the best team in the world. I don't know how the boys did it."
Klopp, whose side lost last season's final to Real Madrid, saluted his players for refusing to accept the tie was over after the first leg.
"There are more important things in the world. But creating this emotional atmosphere together is so special. It's all about the players," he said.
"The mix of potential and unbelievable heart is just a mix I never saw before. You have to be confident in a game like this.
"I saw (midfielder) James Milner crying after the game on the pitch, it means so much to all of us."
Milner was not alone in welling up-Dutch midfielder Gini Wijnaldum, who scored a three-minute double in what was probably his best ever performance in a Liverpool shirt, was also caught crying.
Suarez sick
Belgian striker Divock Origi followed up his late winner at Newcastle on Sunday by also bagging a brace, with his last strike completing the turnaround. Origi netted his second from a low Trent Alexander-Arnold pass after the England defender flummoxed the Catalans by taking a quick corner.
The ease with which the visitor's defense was caught out was galling for Barca and ex-Liverpool striker Suarez, who came in for constant abuse from the home faithful.
"For their fourth goal we looked like schoolboys, we have to be ready for all the criticism that is going to rain down on us now," said the Uruguayan.
"We are very sad, we are in a lot of pain, we feel this pain even though we are professionals."
Barca also saw its campaign end in shocking fashion last season when it was sent packing thanks to a 3-0 quarterfinal, second-leg loss to Roma that earned the Italians an away-goals win.
Messi had vowed to make up for that upset by leading his team to the title this term.
He starred with two goals in the first leg, but an uncompromising first-minute Andy Robertson tackle on Messi set the tone on Tuesday. Apart from some first-half flashes of brilliance, the Argentine was swallowed up by the red tide.
Suarez said coach Ernesto Valverde, who fielded the same starting XI he played in the first leg, should not face criticism for another European meltdown.
"We are the ones that played the game," Suarez said.
"The boss used the same tactics as in the first leg and he tried to do the same thing here. You have to say sorry for the attitude and the things that everyone saw today."
'Very painful'
Valverde said Barcelona had only itself to blame for the collapse, conceding his players failed to match Liverpool's intensity and lost their cool after Wijnaldum's quick-fire double leveled the tie on aggregate.
"Things got on top of us after those two goals. We didn't manage to get on the scoresheet and they rolled us over," he said.
"It's a terrible result for our fans and for ourselves. It's really, really unfortunate, but credit to Liverpool."
Valverde, who also oversaw last season's Roma capitulation but has just led Barca to a second straight Spanish title, was asked if the Anfield defeat would undermine his position at Camp Nou.
"I do not know how it's going to affect me. Here we are, the coach has to take responsibility," he said.
"It's very painful for us, especially for our people, it's the second year they've come back like that.
"When you have a battle like tonight, you're going to go through some really tough few days, like all our fans as well.
"You're going to suffer. That's what it is like. You have to go through this penitence and we've not got long to go until the end of the league season.
"We've got the Copa del Rey final (against Valencia) still to fight for and we've got to really finish the season on a high after this.
"But at the moment we're blown away, it's terrible."
Tearful Barca midfielder Sergio Busquets was quick to apologize for one of the most chastening results in the club's history.
"I apologize to the fans because after the Rome thing, it happens again, it is very hard to fall like that," he told Spanish television at the final whistle.
LeBron impressed
The result sparked bedlam on social media, with many stars from the world of sport joining in the frenzy.
" AMAZING NIGHT FOR THE REDS. WOW #YNWA," wrote basketball superstar LeBron James on Twitter.
Hoops great Kobe Bryant tweeted: "AMAZING NIGHT FOR THE REDS. WOW #YNWA", while tennis champion Caroline Wozniacki wrote: "Wow!!!!! No words!!! What a game!!!! Incredible!!! #ynwa"
Former Liverpool defender Jamie Carragher, a veteran of the Reds' 2005 final victory in Istanbul, said the game was the "greatest night ever at Anfield".
A post on the club's official Twitter feed read: "Here is one thing everyone inside Anfield knows, including our opponents. This Liverpool never stops. This Liverpool never quits. This Liverpool gives everything at all times."
Few, if any, had predicted the outcome, including former Manchester United manager Jose Mourinho, who as a pundit for beIN SPORTS had proclaimed: "I wouldn't bet one single coin on Liverpool playing in the final. Anfield can make miracles, but this would be more than that. 3-0 would be more than that."
Agencies contributed to this story.