Pets live it up in the lap of luxury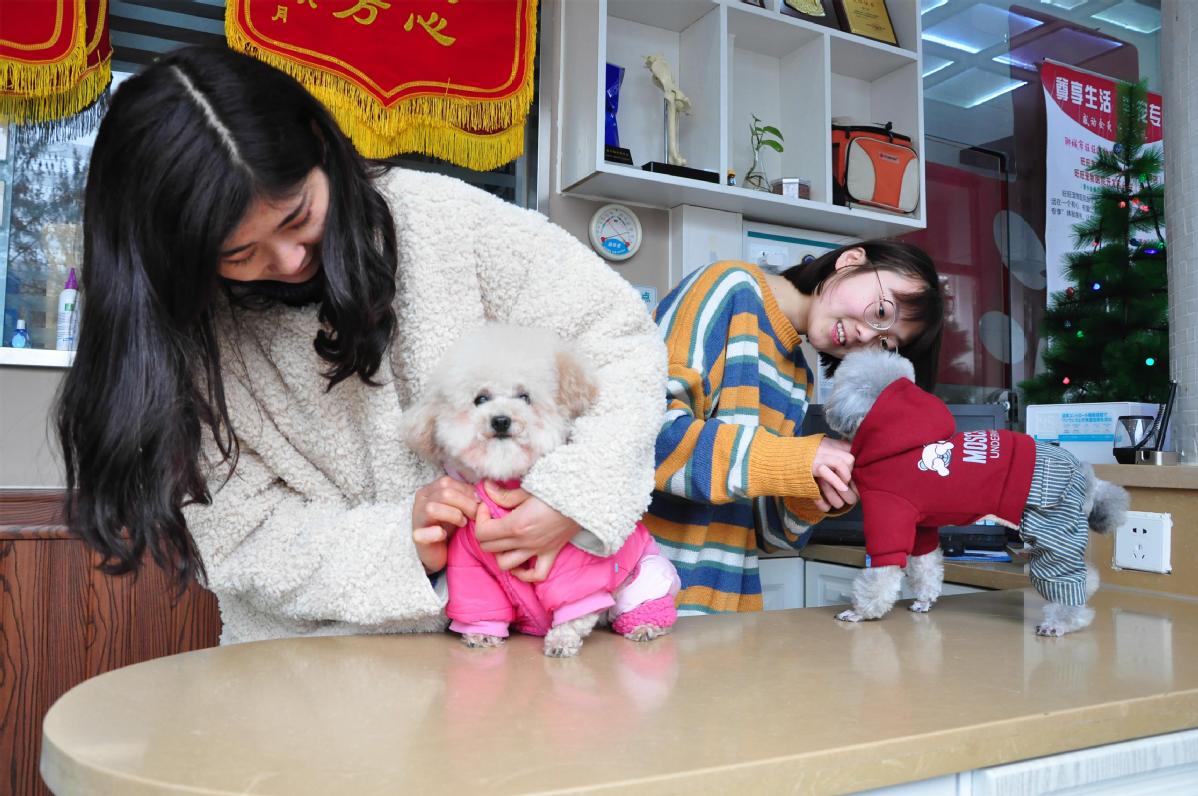 Demand for hospitality services grows as number of Chinese travelers surges
While most of the country's workers enjoy a welcome break in May, those working in pet hotels will barely have a chance to draw breath.
Every holiday means a heavy workload for people working at pet hotels. As most families can't take their pets on holiday with them, a place in a pet hotel can be hard to find during peak times.
"During National Day Holiday and Spring Festival, our resort was fully booked, because we only have 68 guest rooms-although it is a relatively large hotel in the industry," said Li Chen, founder of Cute Beast Pet Resort, a high-end pet hotel of about 5,000 square meters in Beijing, which was established in 2017.
The room charges are almost the same as a regular hotel, with the cheapest costing 158 yuan ($23) per day for a small breed, and more than 300 yuan for bigger breeds. The VIP room, which has a TV set and more space, comes with additional charges.
But the prices don't deter pet owners and Chen said during the Labor Day holiday rooms were sold out two weeks in advance, and the VIP option was among the most popular.
According to the Ministry of Culture and Tourism, in 2018, domestic travel reached 5.54 billion journeys, up 10.8 percent year-on-year, while outbound travel topped 291 million, up 7.8 percent year-on-year.
Meanwhile, pet ownership has been rising steadily in China, from 59.12 million pets in 2017 to 73.55 million in 2018, up 24 percent year-on-year, according to an industry report released by Goumin.com, the country's biggest online pet community.
The rise in both pet ownership and travel is increasing demand for hospitality services.
"In 2018, the pet market was worth 172.2 billion yuan, more than triple that of 2013," said Neil Wang, president of consultancy Frost & Sullivan. "Of which, the dog market was 98.5 billion yuan and for cats it was 60.2 billion yuan."
According to Frost & Sullivan's research, services counted for about 15 percent of the pet dog and cat market, totaling 24.1 billion yuan.
As pet hotel services are in hot demand, the industry has been upgrading to assure pet owners of the safety of their four-legged friends. And some business owners such as Li have taken things a step further, making sure that it's not only the owners who are happy, but the pets, as well.
Li said many pet owners worry that there is no comfortable place for their best friends to stay.
"Traditional pet centers can harm pets by keeping them in spaces that are too small, especially big breeds, which can't even turn around," she said. "Pets can also see guests going in and out of the facility, and that can frighten them, as well.
"Now, the consumption power of the post-80s generation is on the rise, and that of the post-90s generation is also catching up. With easy access to information, we care not only about the food our pets eat, but also their mental health."